Whale Shark Encounter in Mikomoto Island
News & Topics
Ocean info from Mikomoto Island


Whale Shark Encounter!!!


September 2, 2019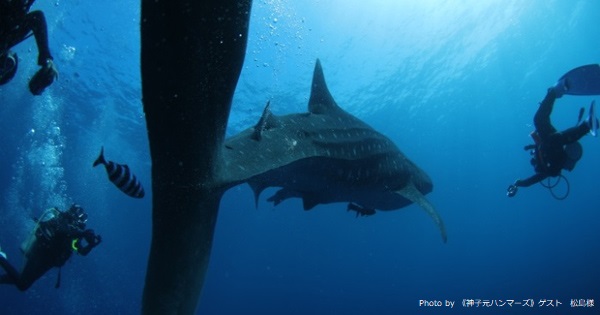 Photo taken by guest diver (Mikomoto Hammers)
Whale shark appeared in Mikomoto Island on September 2nd!
Mikomoto is an exciting dive site famous among the divers around the world for the school of hammerhead sharks.
According to the local dive shop Mikomoto Hammers, divers were first enjoying the amazing view of more than 300 hammerhead sharks at "Zabu-Ne". Then suddenly, they saw a large shadow beyond the sharks, which turned out to be a whale shark!  He stayed with the divers for about 4 minutes.
Now is the best season to dive with hammerhead sharks in Mikomoto, and this continues till October! Hammerhead sharks are seen almost every day, and the visibility is great! Why not give it a try to go see the hammerheads now?
Information & photos from Mikomoto Hammers
All you need to know about Mikomoto Island : Dive in MIKOMOTO