Best Beaches and Dive Destinations in Japan
Best Beaches and Dive Destinations in Japan

For tourists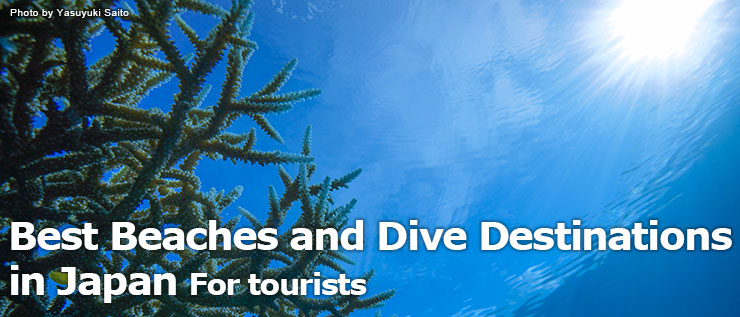 Where is the best dive site in Japan?
Where is the best beach in Japan?
On Marine Diving Web, we asked the readers to vote for the best dive site and beach in Japan for tourists.
We'll introduce the top 5 dive sites and the top 5 beaches you have to go, according to the voting result.
Best Beaches
No.1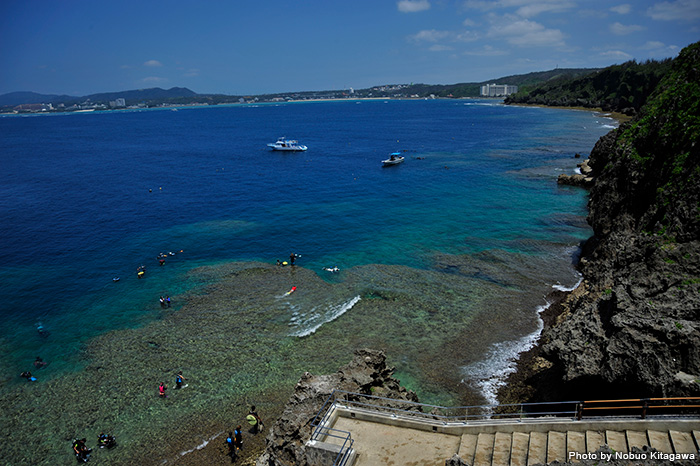 Cape Maeda has "Blue Cave".
There are many rock steps to get to the "Blue Cave", and you have to go down the steps by walk.
But you can access there by boat depending on travel agencies
"Blue Cave" (Ao no Dokutsu)
Cape Maeda, Onna Village, Okinawa Main Island
Cape Maeda is not a beach, but it is a very popular snorkeling site in Okinawa, Japan.
Here, you can snorkel at the very famous "Blue Cave".
This mysterious, beautiful cave can be reached by car from anywhere in Okinawa Main Island.
(It takes only 1 hour from Naha city by car.)
To snorkel here, we recommend taking part in the tours provided by travel agencies.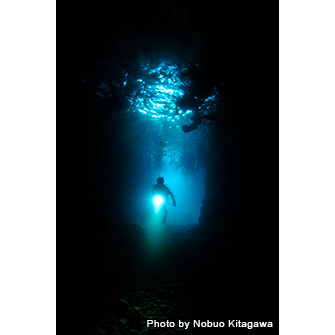 "Blue Cave" is a popular dive site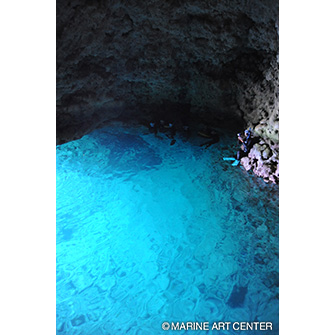 You can also enjoy snorkeling here
No.2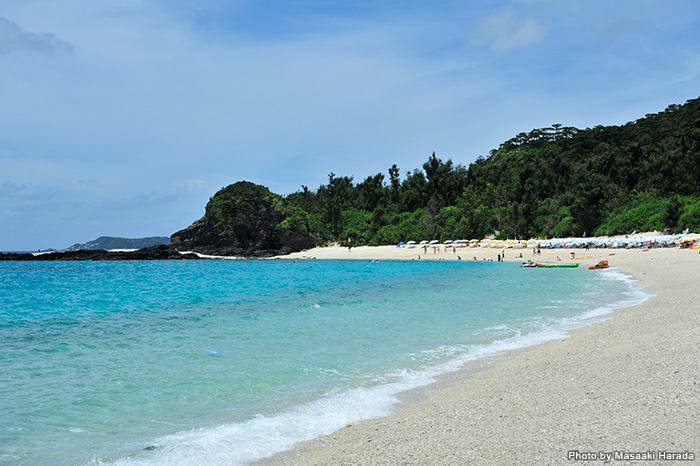 Furu-Zamami has a beautiful white beach
Furu-Zamami
Zamami Island, Okinawa
Already, Zamami Island is a very popular island among tourists.
Furu-Zamami is one of the best beaches in Japan. It has a long white beach, and in front of the beach, there is a beautiful coral reef. Although coral breach has often happened, there are still many reef fish here!
If you want to, you can go there by a day trip from Naha, Okinawa.
But we recommend you to stay at Zamami Island.
It takes about 1 hour from Tomari port, Naha by speed boat.
No.3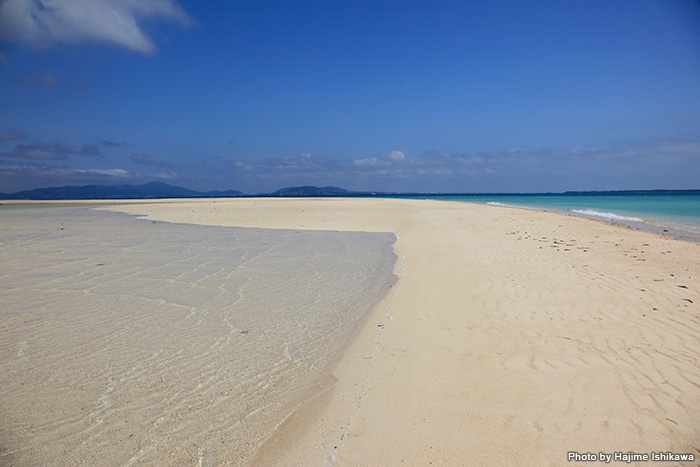 You can leave footprints on the virgin white sand!
"Phantom Island" (Maboroshi no Shima)
Yaeyama Islands, Okinawa
Yaeyama Islands are located at the most south-west part in Japan.
"Phantom Island" is a sand bank in the biggest lagoon "Sekisei Shoko".
It would appear when tide is low, as Maboroshi means phantom or illusion.
You can access "Phantom Island" only by tour, which marine leisure services and travel agencies operate in Ishigaki Island or Kohama Island.
No.4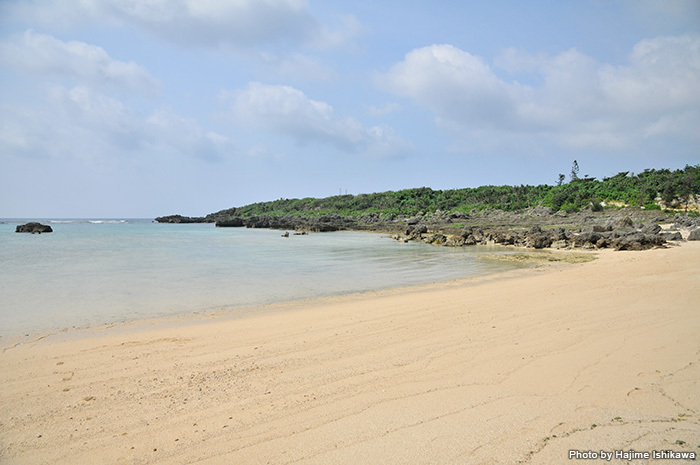 There is a long white beach here.
It is one of the best snorkeling site in Miyako Island
Shigira Beach
Miyako Island, Okinawa
Shigira Beach is located at Shigira Bay, in southern part of Miyako Island.
It has a very beautiful white beach and there are many beautiful coral reefs in front of the beach.
So, you can enjoy snorkeling and scuba diving there.
It takes 15 min from Miyako Island airport by car.
No.5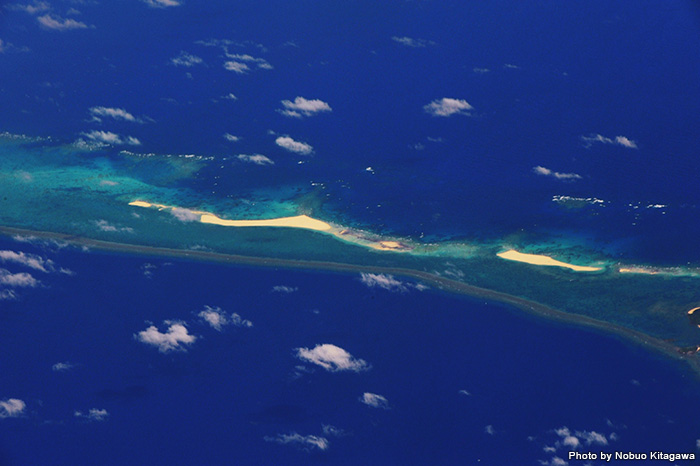 There are 3 parts of sand banks in the reef.
The end of the sand bank is Hate-no-hama
Hate-no-hama
Kume Island, Okinawa
Hate-no-hama is the longest sand bank in Japan.
It means "the end of the beach".
The white sand bank is long and long, so you can enjoy hanging around, snorkeling, swimming, playing marine leisure, and more.
We recommend taking part in a tour from Kume Island.
Best Dive Sites
No.1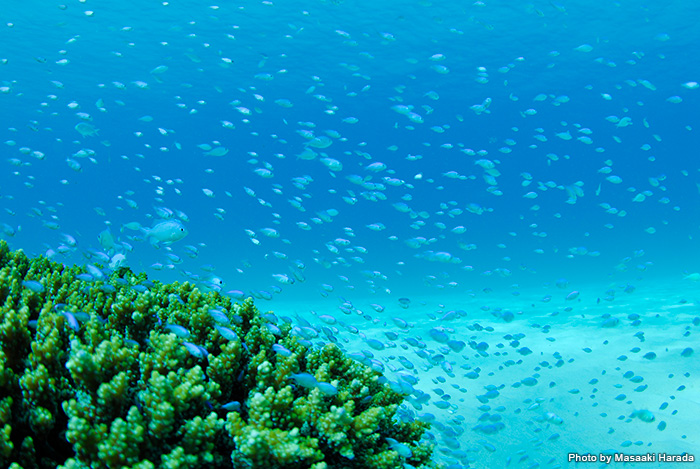 There are many fish around coral reefs. "Nishi-bama" is one of the best dive sites in Kerama
Kerama Islands
Okinawa
Kerama Islands are located 30-60 min. from Naha, Okinawa, and consists of many islands.
4 of the islands are inhabited, and the rest is uninhabited.
You can go diving from Naha, Okinawa Main Island, but we strongly recommend that you stay and dive in Tokashiki Island, Zamami Island , Aka Island, and Geruma Island.
Around the islands, many coral reefs have been well developed for hundreds of years, so Kerama is one of the most famous islands for divers and snorkelers.
You can dive with turtles, schools of fish, and watch the beautiful coral reef and underwater scene.
In summer, you may dive with manta rays.
In winter, you may watch humpback whales from a diving boat.
It should surely become one of the most memorable diving!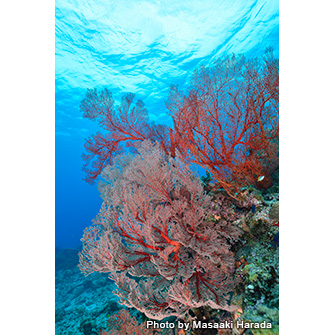 You can sometimes see a big sea fan in Kerama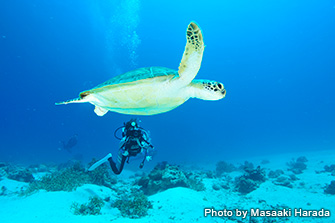 There are many turtle dive sites in Kerama
No.2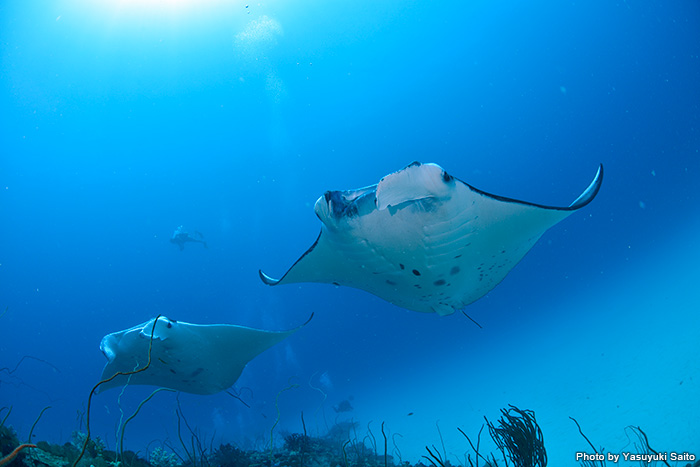 One of the most popular creature is manta ray.
There are some manta ray sites around Ishigaki
Ishigaki Island
Okinawa
Ishigaki Island is located about 400km from Naha and is the center of Yaeyama Islands.
It has the largest lagoon in southern part of the island, and there are many dive sites.
There are many kinds of creatures in the lagoon, drop-off, coral reefs and brackish waters.
We think Yaeyama is the top area where many kinds of marine life live.
Also they have some spectacular manta ray dive sites around the island.
All divers, from beginners to well-experienced divers can enjoy this sea. This island is also good for family trips.
You can go there directly by air from Tokyo, Osaka, Fukuoka and Naha.
No.3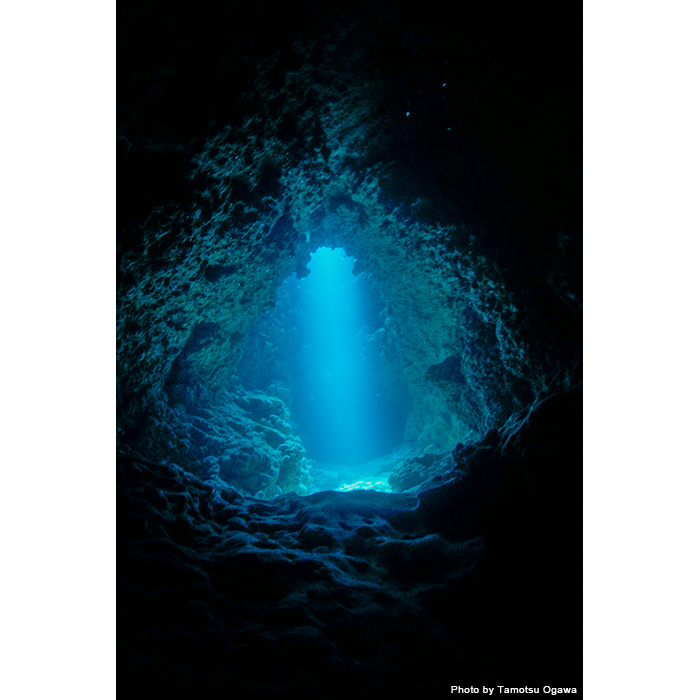 One of the most popular dive sites, Mao no kyuden.
Mao means "satan", and Kyuden means "palace", so it means "Satan's Palace".
At the innermost of the cave, there is a pedestal as though it is for the devil to sit
Miyako Island
Okinawa
Miyako Island is very famous for cavern diving.
There are many arches, holes, and caves around Miyako Island and the neighboring islands: Irabu Island and Shimoji Island.
Some caves need the dive skill level, but some don't. Any diver can enjoy Miyako's caves.
You can also enjoy beautiful corals and school of pelagic fish.
Miyako is a paradise for every diver!
No.4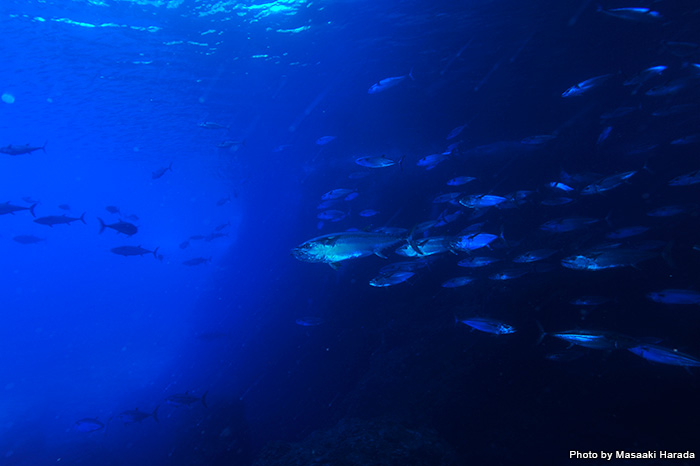 You can see a big school of Dogtooth tuna around "Keita". It is far from Chichi Island, so you can access there only when the ocean is calm
Ogasawara Islands
Tokyo
Ogasawara Islands belong to Tokyo, but it's located 1,000km from Takeshiba terminal, Tokyo.
It's warm all year long in the sub-tropic weather.
There are two inhabited islands : Chichi Island and Haha Island.
There is no airport there, so you have to go there by ship: Ogasawara Maru, and it takes 24 hours!
She only arrives at Chichi Island, so you have to transfer from Chichi to Haha.
We call Ogasawara the last unexplored region, or Galapagos in the East Asia.
There are many endemic species around islands, so you can watch the rare creatures.
There are also dolphins and whales, so you can swim with them!
Long time ago, some Hawaiian and European arrived at the islands, and named them Bonin Islands.
Now, we Japanese call the transparent sea "Bonin Blue", and you can enjoy the endless transparent blue in Ogasawara.
No.5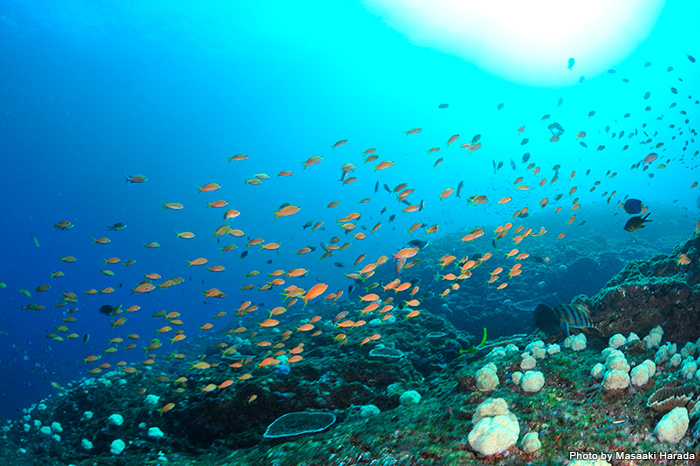 Kushimoto is very close to Osaka, Kansai area, but it is tropic underwater! This is a paradise for weekend divers!
Kushimoto
Kii Pen., Wakayama
Kushimoto town is located at the southernmost tip of Honshu (Japanese main island).
Divers who live in Osaka and around often go diving there in the weekend.
You can go there by train or by car. (If you use the train, your diving shop would pick you up depending on the arrival time.)
It is warm all year long and you can see table coral and other kinds of corals underwater.
There are both tropical and temperate fish, and this is very rare.
Also, there are many nudibranchs and many other little creatures, so it's a paradise for underwater photographers.