Diving in OKINAWA MAIN ISLAND
Diving, Historic Sites, Culture and Spirit,
An Island with Many Tourist Attractions
Diving in OKINAWA MAIN ISLAND
Okinawa Main Island is the center of political and economic life. During the Ryukyu period, it was the capital of the independent kingdom, and therefore there are many historic sites such as Shuri castle in Naha city. This large island can be divided into four different areas, the Motobu & North Area, the West Coast, the East Coast, and the South Area with Naha City.
Overview of Okinawa Main Island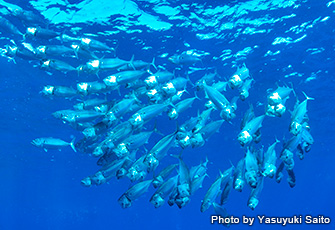 School of Indian mackerel fish eating plankton at "Cape Maeda"
On the ocean side of Onna village and Yomitan village lies the West Coast, a famous beach resort, with many exclusive hotels along beautiful white sand beaches. There are excellent dive sites in cape Zanpa, cape Maeda, Manza and Seragaki areas.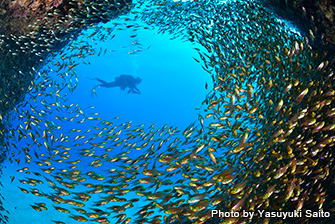 "Nashiro-oki (Sukakin-no-ne)", in the South Area
If you stay in the central Area, you can enjoy beach diving at Sunabe and cape Maeda, and boat diving around the central part of the island. Depending on the season, some diving centers organize diving trip to Chibishi or Rukan atoll, 12 km west of Naha.
The biggest American air force base in Asia is located next to Chatan, Okinawa and Kadena towns. Therefore, many American divers from the base enjoy diving in this area.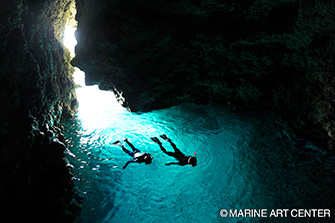 Snorkelers in "Blue Cave" at "Cape Maeda"
Cape Maeda is famous among the local divers and snorkelers, because the "Blue Cave" looks like the Blue Grotto in Capri, Italy. There are two ways to access the cape. Usually, diving centers from the West Coast come by boat, and the diving centers from Naha Area use beach entry. But you will have to go down a staircase with 65 steps to reach the entry place.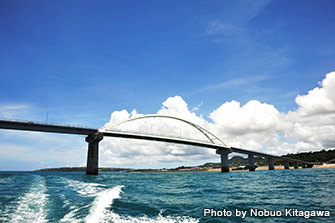 Bridge to the Sesoko Island
Dive sites around the northeast of Okinawa Main Island are also quite spectacular. Around the cape Hedo in the northernmost end of the island, there are magnificent dive sites such as "Cape Hedo Dome", an underwater limestone cave, or the "Cape Hedo Canyon" with many kinds of big pelagic fish. Due to the depth and the current, these dive sites are for advanced divers.
There are other interesting dive sites near the Motobu peninsula. This includes Sesoko Island, an island connected by a bridge, which is popular among local divers. There is a lot of variety in these waters such as underwater caves, coral gardens, and sandy bottoms where you may find numerous gobies.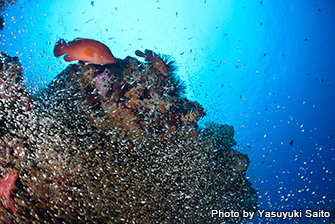 Dive Site "Ebinya", Kudaka Island
Regarding the East Coast of Okinawa Main Island, most of the dive sites are located off Okinawa city. Sites around Ikei Island, Kudaka Island, and Tsuken Island were explored from early on. Coral reefs, caves, sandy bottoms, are some of the many attractions in this area.
Kin Bay located in the middle of the East Coast became popular recently. There are good dive sites such as "Red Beach" which you can access from the beach, "Egg Iwa" where you will see more than 10 turtles in one dive, and "Cape Kin" which is a big drop-off, with many kinds of fish around the bay.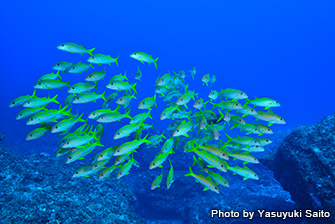 Chibishi, located 12 km west of Naha is part of the Kerama Islands and consists of 3 small islands named Kamiyama Island, Kuefu Island, and Nagannu Island. To the south of Chibishi, there is a small atoll, Rukan, which has a circumference of 5 or 6 km. Both Chibishi and Rukan are great diving areas with excellent visibility. The diving centers in the Naha Area will take you there in summer for a full day or half day diving trip.
Season Calendar for Divers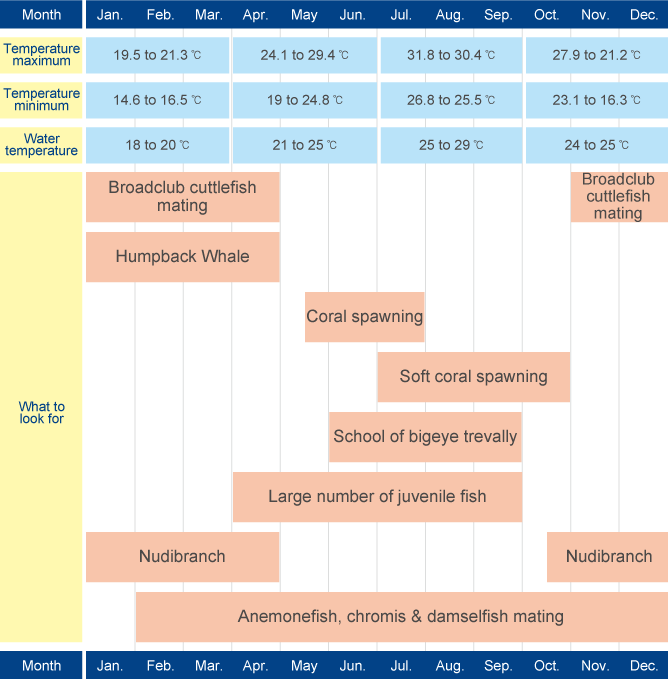 Dive Sites in Okinawa Main Island
West Coast
1 Cape Maeda
(Blue Cave)
Skill level: all levels
Maximum depth: 30 m
Currents: sometimes strong
Distance: 20 min. from Maeganeku port, 30 min. from Onna port
This is one of the most famous dive sites in Okinawa Main Island. After swimming through the reef, you arrive in front of the underwater dome named "Blue Cave". The entrance is about 4 m wide, 5 to 6 m deep, then it continues to deepen up to 50 m. Near the entrance, there is an air dome about 10 m wide. You will see beautiful blue light coming from the roof. There are schools of slender sweepers in the hole and schools of batfish around it.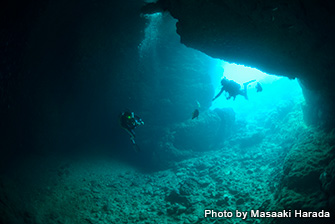 2 Cape Zanpa
Skill level: from intermediate
Maximum depth: 24 m
Currents: sometimes strong
Distance: 20 min. from Maeganeku port, west coast area
The dive sites around Cape Zanpa are popular among the experienced divers because of their magnificent walls and drop-off. There is a chance to see pelagic fish such as dogtooth tuna, and perhaps, you will find rare species such as nudibranchs and pigmy seahorses in the soft corals near the deep walls.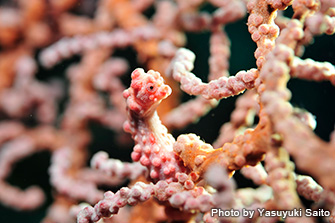 3 Manza Dream Hole
Skill level: from intermediate
Maximum depth: 30 m
Currents: sometimes strong
Distance: 10 min. from Onna port, west coast
This is one of the most famous cave diving site in the West Coast area. You may enter from the vertical hole on the reef shelf, and then, you can swim out of the cave from the side of the drop-off.
The spot light flooding the small cave creates a mysterious atmosphere. Deeper, you will see some elegant firefish or a pigmy seahorse.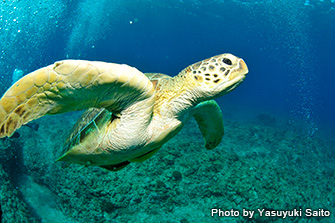 4 Manza Horseshoe
Skill level: from intermediate
Maximum depth: 30 m
Currents: sometimes strong
Distance: 10 min. from Onna port
Ahead of the reef, there is a big rock which looks like a horseshoe. This is a very popular site among experienced divers because the likelihood of encountering dogtooth tuna, blue spotted jackfish, turtles, many kinds of nudibranchs, and blennies is very high. There is an underwater tunnel and you will see schools of bigscale soldierfish under the overhang.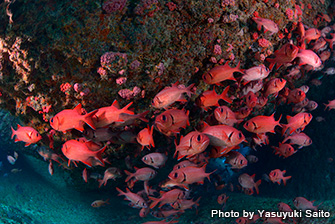 The Central Area & The South Area
5 Sunabe No.1
Skill level: all levels
Maximum depth: 20 m
Currents: nearly none
Distance: 30 min. by car from Naha
This is one of the dive sites in Chatan Area which is popular with beginners, right off the Miyagi seashore. There are slopes along the coast, so the entry is easy for beginners and less experienced divers. In soft coral gardens, you will find many anemonefish, and there are a lot of gobies on the sandy bottoms.
In April 2016, an underwater mail box was set up. You can now send your letter from underwater!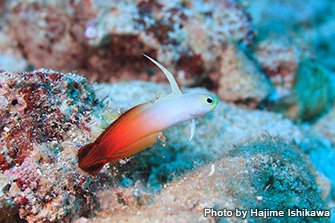 Motobu & North Area
6 Sesoko Island Labyrinth
Skill level: all levels
Maximum depth: 12 m
Currents: sometimes strong
Distance: 5 min. from Motobu port
This is one of the dive sites with a complex underwater landscape. There are some cracks on the shelf at about 3 or 5 m depth. In the intricate caves, you will see beautiful curtains of light, and find some lobsters, slender sweepers, schools of bigscale soldierfish, etc.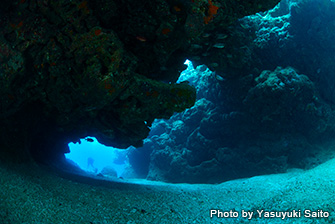 7 USS Emmons
Skill level: advanced only
Maximum depth: 35 m
Currents: sometimes strong
Distance: 20 min. from Kouri port
This American ship wreck was found in 2001 by local divers near the Kouri Island. USS Emmons was attacked by Japanese Kamikaze flying corps during the WWⅡ. It is 106 m long and lies at the depth of 40 m. Because of the depth and the strong current, this dive site is only for those who have experienced more than 50 dives.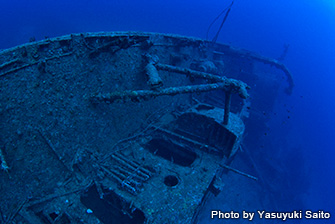 Gallery of Okinawa Main Island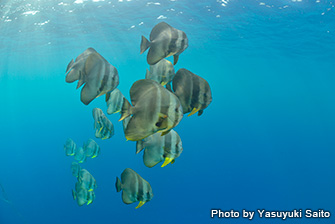 In "Cape Maeda", you will see schools of batfish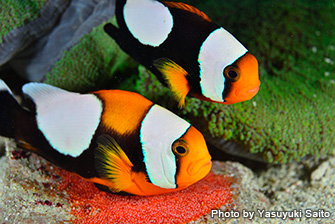 Saddleback clownfish with their eggs, "Onna Yamada Toaka"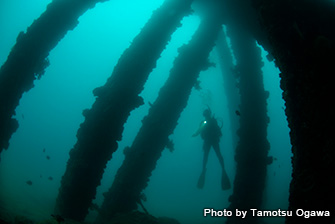 "Red Beach" on the East Coast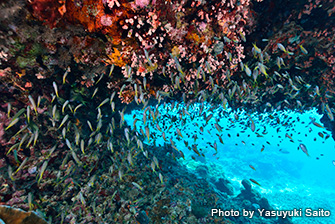 Dive site named "Popeye" in Minna Island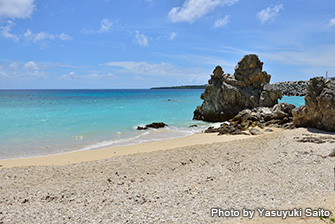 "Sakimotobu Gorilla Chop" in the Motobu Area is also popular with snorkelers.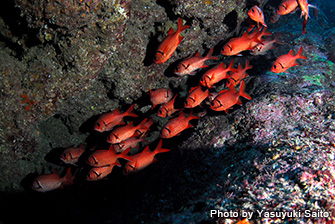 Schools of whitetip soldierfish, in Kudaka Island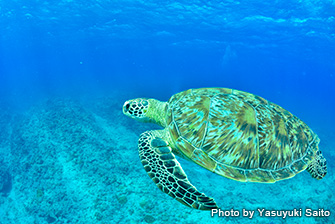 Encounter turtles in Chibishi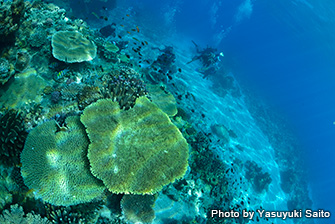 Beautiful coral in Chibishi
Diving Shops in Okinawa Main Island
*Please note that not all diving shops on the list have English speaking staff.
*Please choose the diving shops at your own risk. We're not responsible for any accidents / troubles.
Transportation
About the transfers on the island, please check with the following informative web-sites about monorail, taxi, and bus.
If you have an international driving license, rent-a-car is the most useful way to move around in this big island. You can pick your car up at the airport.
Transportation times:
From the airport
25 minutes to Tomari port in Naha city
45 minutes to Chatan town
45 minutes to Shuri castle in the South area
70 minutes to Onna village or Yomitan Area
2 hours to Motobu Town by highway
2.5 hours to the North area by highway
A Day of Diving in Okinawa Main Island
There are many diving centers in Okinawa Main Island. However, the services offered by the shops can vary (Boat diving or beach entry, pick up by car or not). Usually, the dive center drives you to and from your lodging, but if it is far, some diving centers charge a transfer fee. So, you should better choose a diving center near the accommodation according to the dive sites you want to go to.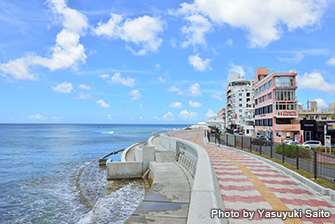 Sunabe is popular for beach diving
-Naha city diving centers: dive sites in the south, West Coast, Chibishi, Rukan atoll and the Kerama Islands.
-South Area diving centers: dive sites in the south, Chibishi, Rukan atoll and the Kerama Islands.
-West Coast Area diving centers: dive sites in the West Coast mainly. Some diving centers go to North or South Areas.
-Motobu & North Area diving centers: dive sites in the Motobu Area and the North Area.
-East Coast Area diving centers: dive sites in the East Coast.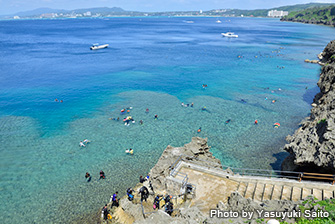 You can access to the famous dive site, "Cape Maeda", by car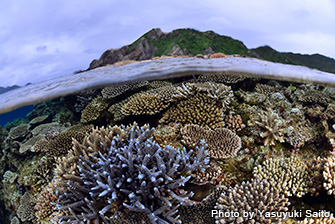 Some diving centers located in Naha, South Area take you to the Kerama Islands in summer
Accommodation Options for Divers in Okinawa Main Island
Luxury hotels, small hotels, guest houses, B&B style lodges, and more. Okinawa Main Island has the most options for overnight stay as well as recreational activities and nightlife. It is easy to find day tours to historical places of the Kingdom of Ryukyu and places to enjoy traditional Okinawan culture such as Sanshin music and Ryukyu dance. Kokusai street, the main street of Naha, offers you a large choice for eating, drinking, shopping. A good location for marine activities is in the West Coast Area. And in Motobu town, the Ocean Expo Park and Okinawa Churaumi Aquarium are very popular with tourists.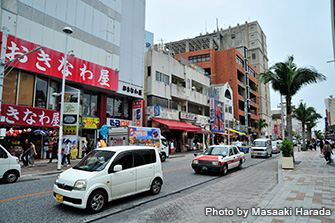 In Naha, there are many souvenir shops
The Mihama American Village in Chatan town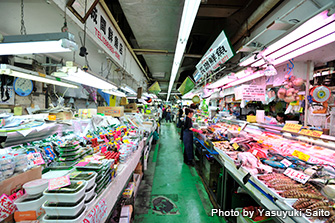 Makishi Kosetsu market is one of the places you must go to in Naha
Travel Information
Access to Okinawa Main Island
About 2.5~3 hours from Haneda, TOKYO
About 3~3.5 hours from Narita, TOKYO
About 2~2.5 hours from Itami or Kansai, OSAKA
Other direct domestic flights from
Nagoya/Fukuoka/Sapporo/Shizuoka/Sendai/Takamatsu/Nagasaki/Miyazaki/Kumamoto/Niigata/Hiroshima/Matsuyama/Kagoshima
International flights from South Korea, Taiwan, China, etc.
Internet:
Free Wi-Fi access at the airport, cafes, restaurants, bars, hotels, and some sightseeing spots.
Shopping
In the capital city Naha, especially around Kokusai Street, there are numerous souvenir shops and shopping malls selling an incredible variety of souvenirs. Also, while walking, you can try local food offerings. In Japan, Okinawan food is known to be very healthy.
The biggest market in Naha named Makishi Kosetsu Market is a unique experience. You can buy seafood on the first floor and ask to have it cooked on the second floor. Take in the atmosphere of Okinawan food culture!! Check out Okinawan food before your visit.
https://www.japan-guide.com/e/e7128.html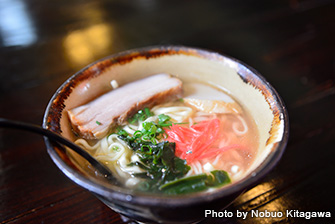 Okinawa Soba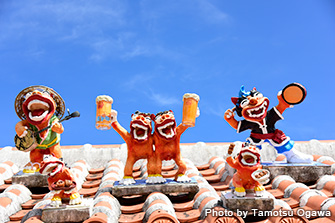 Happy dancing Shisas on the roof of the Okashigoten (a big and famous souvenir shop selling sweets)
Hospitals:
On Okinawa Main Island, there are many clinics or hospitals. The Japanese word for hospital is "byouin" pronounced "byoh-in".
Emergency phone number in Japan : 119
ATM/Money dispensers
Recently, it has become easier to withdraw money with foreign credit cards at ATMs. You will find such ATMs at the airport. Depending on your card provider, you might be able to withdraw money at 7-Eleven convenience stores or post offices.