Amazing Cavern Dive Sites and Coral Reefs


Diving in MIYAKO ISLAND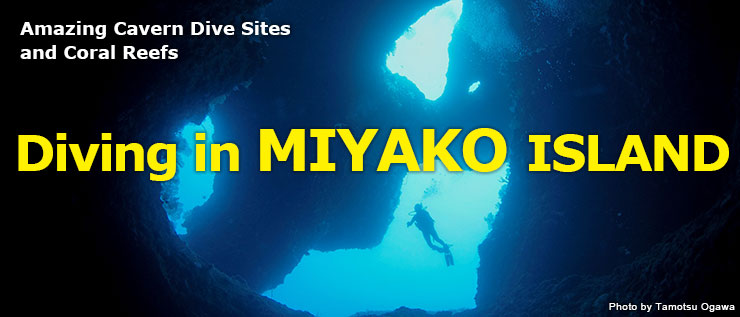 Overview of Miyako Island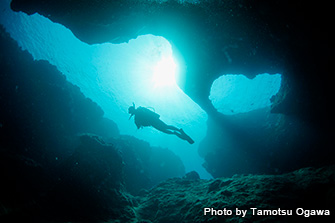 "W Arch", north of Irabu Island is popular for the shape of the cave
When it comes to the number and variety of cave dive sites, there is no place like Miyako Islands. Miyako Islands consist of 6 islands including the main island, Miyako Island. These islands are entirely made of coral limestone. The limestone is easily eroded by seawater, rainwater, waves and currents, leading to the creation of various landforms. Therefore, there are many interesting cave dive sites around these islands, especially in Irabu Island and Shimoji Island. Divers dive in the north part during the summer and the south part in winter in order to avoid the wind.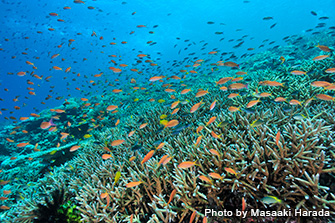 As explained in the "Overview of the Islands of Okinawa", there are many diving attractions in Miyako Island. There is a big coral reef group of more than 100 coral reefs, Yabiji. During the low tides of the seasonal spring tides, this big coral reef appears above the surface of the ocean. In the past, it was a great fishing ground for the fishermen of Ikema Island who gave names to most of the coral reefs. After the British ship HMS Providence was stranded at Yabiji in 1797, some dive sites were named "Providence". Because it is located off the north side, diving centers do not go there during the northern windy season.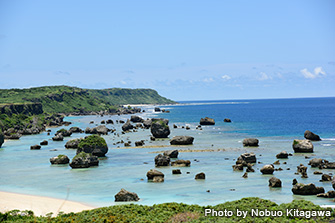 The East Coast of Miyako Island is also attractive to divers. In the easternmost part of Agari-hennazaki, there are caves and coral diving spots. There are also drift dive sites where you can see schools of dogtooth tuna, jackfish, or double-lined fusilier. A little bit farther to the north, there is a big coral reef named "Tsufutsuwa-bishi". It takes only 15 minutes to get there from Takano port which is located in the northeast of the island, and you can enjoy fish watching and beautiful corals there.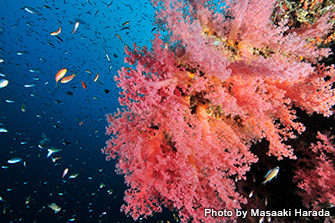 There are many cavern dive sites in the southern area of Miyako Island. When a diving instructor found an interesting cave in the south area and came up to the surface, he saw the monument of Ushi (which means cow in Japanese) on the island from the sea. Therefore, he named this spot "Ushi-san Tokude Konnichiwa (which means hello to a cow from a distance)''. Afterwards many other cave dive sites were found near there, and then, the Ushi-san dive site series started. Those dive sites are popular for diving in the winter season.
Season Calendar for Divers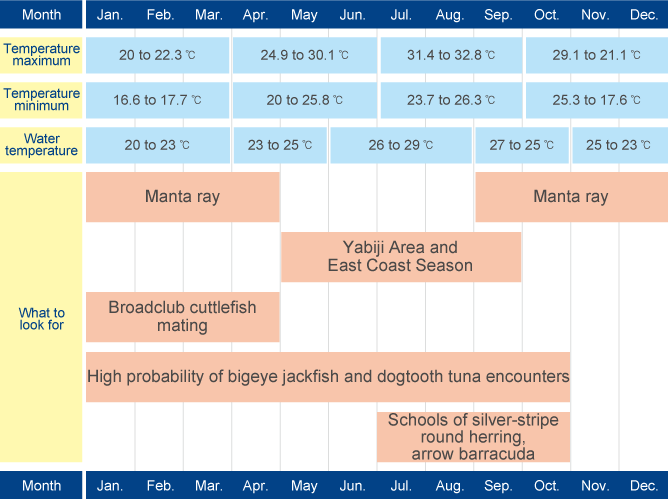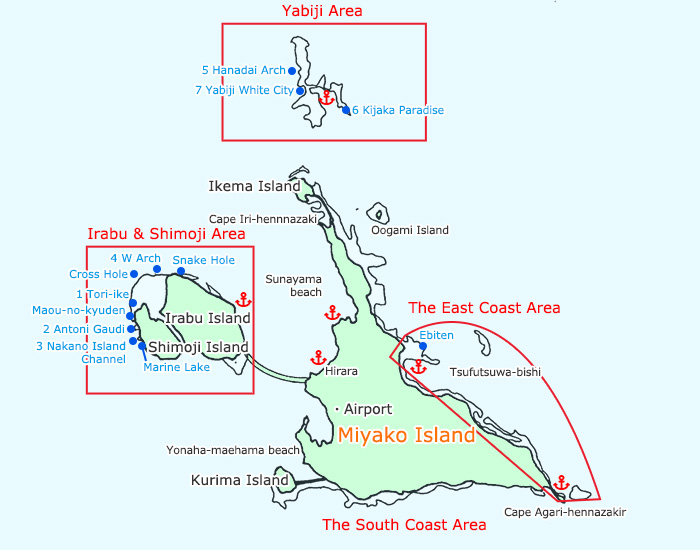 Dive Sites in Miyako Island
To make things easier to explain, we have divided the ocean around Miyako Island into four areas: Irabu & Shimoji Area, Yabiji Area, the South Coast and The East Coast of Miyako Island.
Irabu & Shimoji Area
1 Tori-ike
Skill level: from intermediate
Maximum depth: 40 m
Currents: sometimes strong
Distance: 15 min. from Irabu Island / 35 min. from Hirara port
This is a symbolic cave dive site in Miyako Islands. The two small ponds in Shimoji Island are connected underwater. The name "Tori-ike" comes from this (Ike means pond). Because of its depth (the entrance to the cave is about 24 m deep), you need to swim up and down between underwater and the surface and therefore, this site is only for experienced divers. At the entrance of the cave, you will see the mysterious chemocline and thermocline phenomena.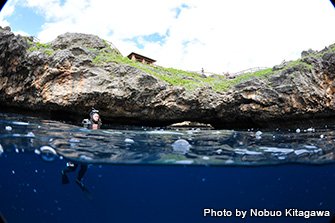 2 Antoni Gaudi
Skill level: from intermediate
Maximum depth: 33 m
Currents: nearly none
Distance: 15 min. from Irabu port / 35 min. from Hirara port
As the name of the famous architect suggests, this is a cave site with a unique topography. There are many holes with beautiful natural art formations. The entrance is about 10 m deep and you have to enter head first to swim down to a depth of 20 m. You may see noble file clams, leaf fish, and purplemasked angelfish.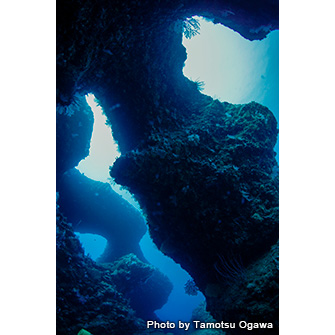 3 Nakano Island Channel
Skill level: all levels
Maximum depth: 22 m
Currents: nearly none
Distance: 15 min. from Irabu port / 35 min. from Hirara port
The two main attractions of the southwest of Shimoji Island are its interesting topography and fish watching. In the reef on a sandy bottom, many crevasses look like channels or tunnels. While swimming through the channels, you will see many juvenile fish and nudibranches.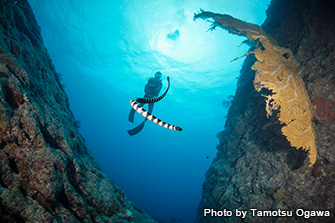 4 W Arch
Skill level: all levels
Maximum depth: 18 m
Currents: sometimes strong
Distance: 15 min. from Irabu port / 35 min. from Hirara port
This is one of the most popular caves located in the north side of Irabu Island.There are two holes in the reef, one big and the other small. Depending on the viewing angle, the shape of the smaller one looks like a heart. Inside the tunnel, there are schools of gold-lined sea bream, bigscale soldierfish and various kinds of shellfish.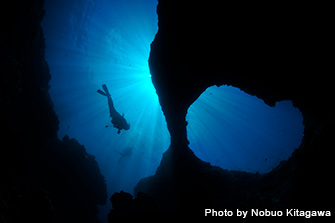 Yabiji Area
5 Hanadai Arch
Skill level: all levels
Maximum depth: 33 m
Currents: sometimes strong
Distance: 60 min. from Hirara port
On the northwest side of Yabiji, you will see a huge number of scalefin fairy basslet on the wide coral reef slope. At 10 m deep, there is an arch long enough to swim through, and you can enjoy the crystal blue scene from inside of the arch. If you are lucky, you might see dogtooth tuna or bigeye jackfish.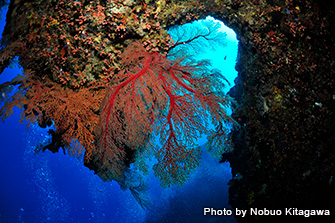 6 Kijaka Paradise
Skill level: all levels
Maximum depth: 30 m
Currents: nearly none
Distance: 50 min. from Hirara port / 10 min. from Ikema port
On a big slope covered with various kinds of coral reef, there are many kinds of fish such as stocky anthias, scalefin fairy basslet, peach fairy basslet. Inside the coral gardens, you can find nudibranchs and clownfish. Sometimes, napoleon fish or dogtooth tuna pass above the reef.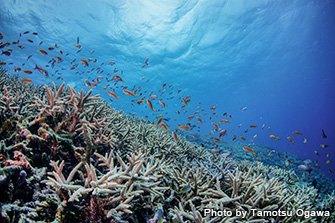 7 White City
Skill level: all levels
Maximum depth: 14 m
Currents: nearly none
Distance: 60 min. from Hirara port / 15 min. from Ikema port
There are some corals on the beautiful white sand, and around some of them you will see schools of glassfish. This site is good for wide lens photography. If you look closer at the corals, there are good subjects for macro photography such as commensal shrimp, leaf fish, and whitecap goby.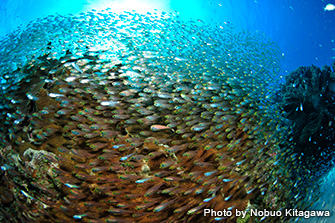 Gallery of Miyako Island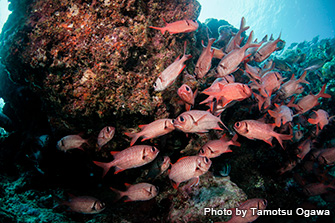 "Cross Hole", north side of Ikema Island & Shimoji Island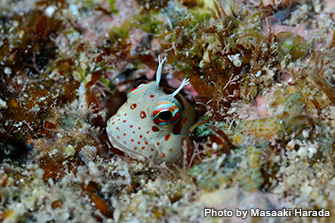 "Snake Hole", north side of Ikema Island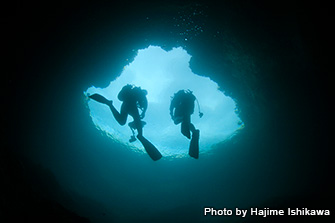 "Marine Lake", southwest of Shimoji Island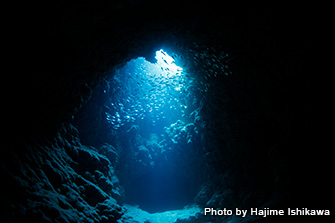 One of the most famous cave diving spot, Maou-no-kyuden ( "Satan's Palace" )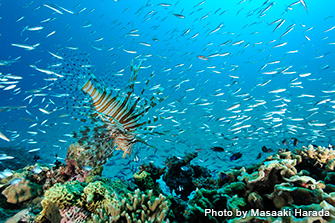 Dive site named "Ebiten", east side of Miyako Island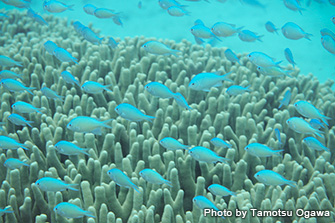 There are beautiful coral diving spots near the Kuruma Island too
Diving Shops in Miyako Island
*Please note that not all diving shops on the list have English speaking staff.
*Please choose the diving shops at your own risk. We're not responsible for any accidents / troubles.
Transportation
If you have an international driving license, it is easy to rent a car. It is an exhilarating experience to drive from island to island over the tropical sea thanks to endless bridges. When you move around the city, taxis are also very convenient.
Transportation times:
10 to 15 minutes from the airport to Hirara city
10 minutes from the airport to Yonaha-maehama beach
10 minutes from the airport to Ikema Bridge
35 minutes from the airport to Agari-hennazaki
Usually the diving center picks you up at your location.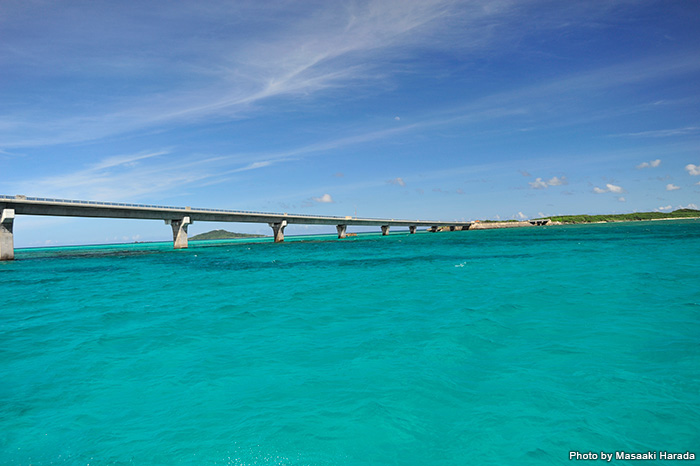 A Day of Diving in Miyako Island
There are about 80 diving centers in Miyako Island, Ikema Island and Irabu Island. Some of them are small and guiding small groups, and some of them are in large hotels. Your boat will take you out for two or three tank dives per day. You can order your lunch at the diving center. Some of them bring very tasty lunch boxes on board, while others cook delicious meals on the boat. There are many ports around Miyako Islands, so the diving centers are using the nearest port from their shops. Sometimes, they change the port depending on the dive sites. Regarding the transfer from the port to your lodging, you should better check when to make your reservation. When you go for a cave dive, do not forget your underwater flashlight. You can also rent one.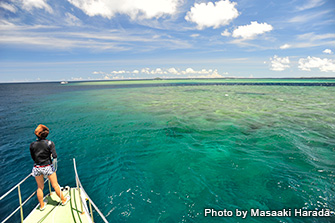 Yabiji season is from May to the end of October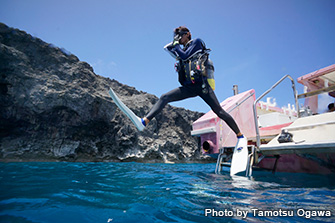 Diving boats are conveniently designed
Accommodation Options for Divers in Miyako Island
If you want to enjoy the nightlife, you should stay in Hirara, the urban area. There are various types of accommodations such as modern hotels, small hotels, budget hotels, guesthouses, etc. There are also luxury hotels along beautiful white sand beaches such as Yonaha-maehama beach, Shigira beach, Uenomura Village, etc. Most of the accommodations are welcoming divers and they have an area to wash and dry your equipment.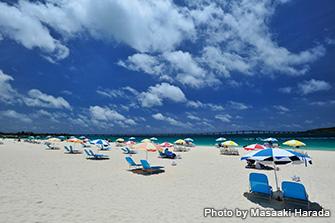 Yonaha-maehara is famous and popular with tourists.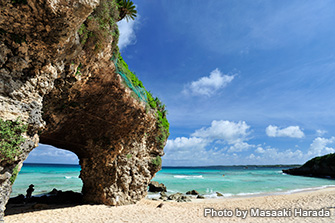 Sunayama beach is popular with local people, and only 10 or 15 minutes from Hirara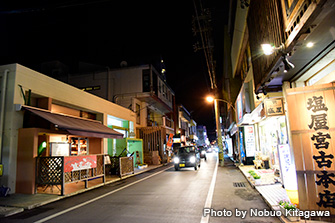 There are many restaurants and bars in Hirara
Travel Information
Access to Miyako Island
About 3 hours from Haneda, TOKYO
About 2.5 hours from OSAKA
About 45 minutes from Naha, OKINAWA
About 35 minutes from Ishigaki Island, OKINAWA
Internet:
Free Wi-Fi access at the airport, hotels, some cafes, restaurants, bars...
Shopping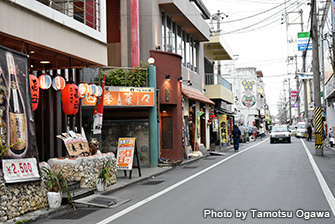 Hirara town is convenient for shopping and eating
Because of the subtropical climate, there are many special products such as mangos, bananas, dragon fruits, sugar cane, etc. You will also find sweets made with these products. Also, there are many different makers of Awamori spirits and various marine products. A policeman doll named "Mamoru-kun'' is a character unique to Miyako Island. You will see many souvenirs with a "Mamoru-kun'' package. Shops are located in Hirara, around hotels, along the big road and at the airport.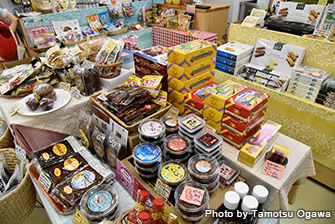 You can buy many special products of the island at the Miyako Island market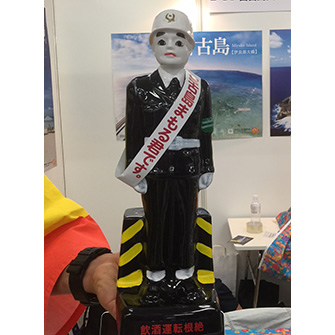 The Awamori bottle of the funny character, "Mamoru-kun"
Hospitals:
On Miyako Island, there are many clinics or hospitals. The Japanese word for hospital is "byoin" pronounced "byoh-in".
Emergency phone number in Japan: 119
ATM/Money dispensers
Recently, it has become easier to withdraw money with foreign credit cards at ATMs. You will find such ATMs at the airport. Depending on your card provider, you might be able to withdraw money at some convenience stores named Familymart and at Seven Bank ATMs at MaxValu supermarkets.