DIVING IN OKINAWA
OKINAWA
~ 160 Islands and Islets ~
Okinawa, the No.1 destination for divers in Japan, consists of 160 islands, of which 49 are inhabited. Thanks to its subtropical climate and the nutrient-rich KUROSHIO current coming from the Philippines, the marine life is very diverse. There are incredible varieties of corals and tropical fish. Also, in many areas, depending on the season, you can see stars of the sea such as manta rays, whales, and whale sharks. This is a delight for photographers and divers who love to see big ocean animals. Check the best seasons with the following calendar!
Season Calendar for Divers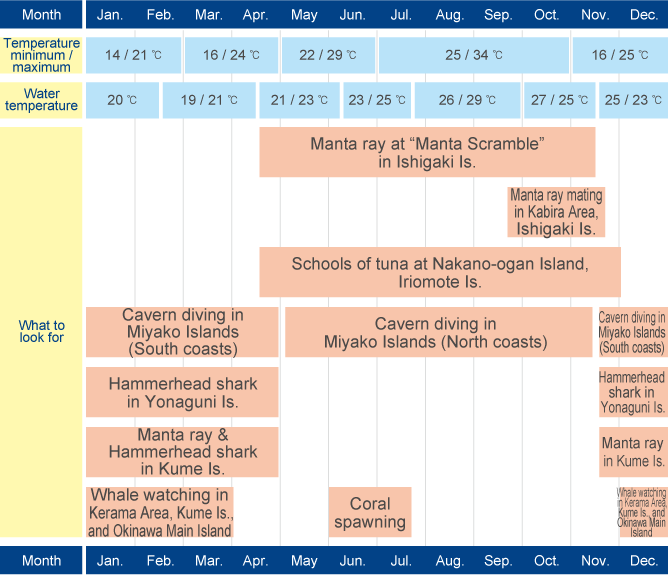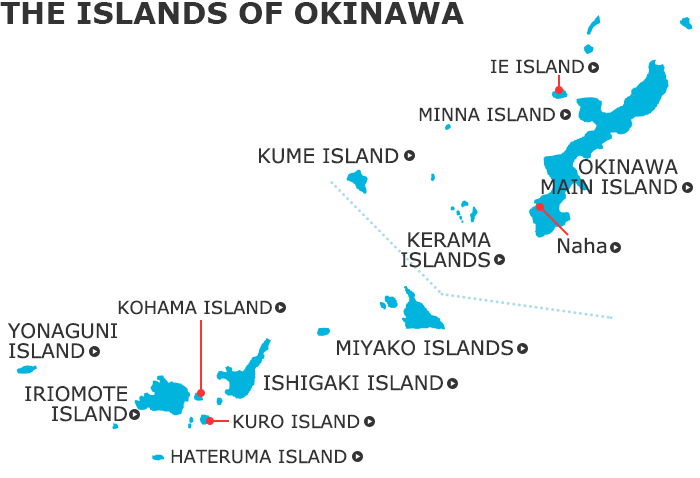 How to Get There
About 2.5~3 hours from Haneda, TOKYO
About 3~3.5 hours from Narita, TOKYO
About 2~2.5 hours from Itami or Kansai, OSAKA
Other direct domestic flights from
Nagoya/Fukuoka/Sapporo/Shizuoka/Sendai/Takamatsu/Nagasaki/Miyazaki/Kumamoto/Niigata/
Hiroshima/Matsuyama/Kagoshima
International flights from South Korea, Taiwan, China, etc.
About 3 hours from Haneda, TOKYO
About 2.5 hours from OSAKA
About 45 minutes from Naha, OKINAWA
About 35 minutes from Ishigaki Island, OKINAWA
About 3 hours 10 minutes from Haneda, TOKYO
About 2~3 hours from OSAKA
About 55 minutes from Naha, OKINAWA
About 30 minutes from Miyako Island, OKINAWA
About 2 hours from Taipei, TAIWAN
About 2 hours from HONGKONG
About 2.5 hours from Haneda, TOKYO (*Only during summer)
About 35 minutes from Naha, OKINAWA
About 3 hours from Tomari port, Naha, by ferry
About 40 minutes from Ishigaki Port by high-speed boat
About 1 hour from Ishigaki Port via Hatoma Island by high-speed boat
KERAMA ISLANDS
To AKA ISLAND, ZAMAMI ISLAND
About 50 minutes from Naha by high-speed boat
About 1.5~2 hours from Tomari port, Naha, by ferry
KERAMA ISLANDS
To TOKASHIKI ISLAND
About 35 minutes from Naha by high-speed boat
About 1 hour from Tomari port, Naha, by ferry
About 1.5 hours from Naha, OKINAWA
About 35 minutes from Ishigaki Island, OKINAWA
About 4 hours from Ishigaki Port by ferry
Overview of the Islands of Okinawa
OKINAWA MAIN ISLAND (OKINAWA HONTO)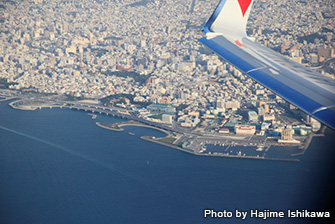 Okinawa Main Island, or Okinawa Honto (Honto means main island), is the biggest island and the center of OKINAWA prefecture. The island is 120 km long. It is easy to find your dive center in each area. First, you may want to choose an area among the northern region, west coast, east coast or around Naha city. In the southwest is the capital city, Naha, an urban area with a population of 320,000. Tomari port is the seaway to the outer islands.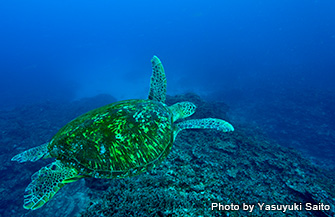 Except for the Naha area, Okinawa Main Island is full of nature. In the northern region, there are mountains and the primeval forest (These areas are called Yanbaru) with a wide variety of birds and animals including some indigenous species.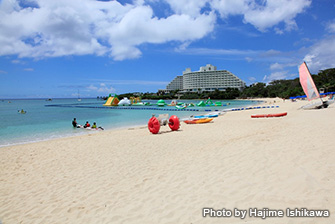 Along the west coast, you will see lots of beautiful white sand beaches and luxury hotels.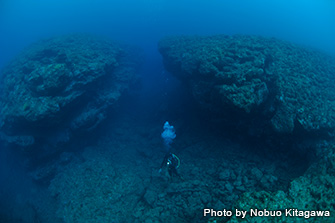 People say that the east coast area of Okinawa Main Island is a hidden gem. The beaches are calm and uncrowded and the underwater is pristine.
ISHIGAKI ISLAND
(ISHIGAKI-JIMA)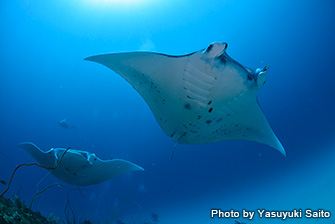 If you want to see manta rays, you should stay in Ishigaki Island, or Ishigaki-jima (Jima means island). The world-famous dive site "Manta Scramble" is located off the Kabira Area, northwest of the island. From June to November, the probability of encountering manta rays is very high. For "Manta City Point", "Yonara Channel", and "Panari Manta Spot", go to detailed information.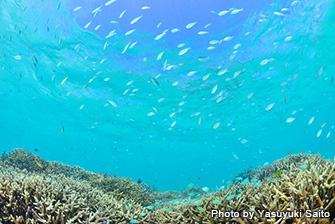 Another attractive area for divers is Sekisei Shoko, the largest coral lagoon in Japan at the southern tip of the island with coral heads, sandy bottoms, caves, etc. There are numerous dive sites around the beautiful small islands named Kuro Island, Taketomi Island, Kohama Island, Kayama Island and Panari Island. There are also two manta ray sites in this lagoon. If you stay in the urban district of Ishigaki Island, it is easy to go diving around Sekisei Shoko.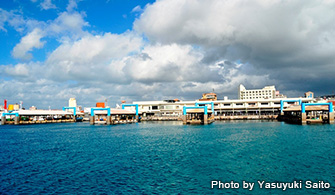 Ishigaki Island is the hub of the Yaeyama Islands or Yaeyama Shoto (Shoto means group of islands). From Ishigaki port you will find boat services to the inhabited islands, Kuro island, Taketomi Island, Kohama Island, and Iriomote Island. The urban district of Ishigaki Island has developed around this port, in the southwest of the island. There is a large choice of lodging and activities in this area.
MIYAKO ISLANDS
(MIYAKO SHOTO)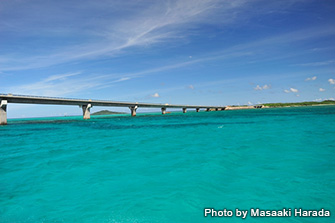 There are many cavern dive sites in Miyako Islands.
The islands consist of 8 inhabited islands. With the shape of an isosceles triangle, Miyako Island is the main island, connected to the small islands by long bridges. These islands are Irabu Island and Shimoji Island in the west, Ikema Island in the north, and Kuruma Island in the south. There are innumerable varieties of underwater caves around Irabu Island and Shimoji Island, just south of Miyako Island.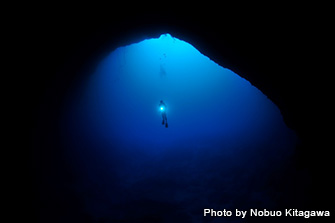 There is no river on Miyako Islands, so the underwater visibility is always good. Moreover, you will enjoy the natural beauty of underwater arches, caves and tunnels. A dive site "Tori-ike" (Ike means pond) is particularly famous for its mysterious topography.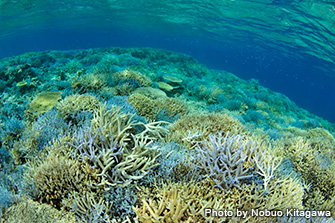 You should also note the Yaebise (or Yabiji) area off the north side of Ikema Island. This area has one of the biggest coral reef group in Japan, with more than 100 coral reefs.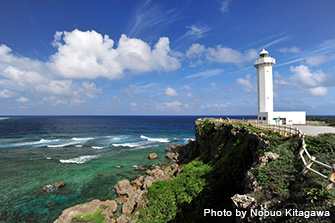 Far from the main port of Miyako Island on the west coast is the east coast area, which is relatively unexplored by divers. However, some diving centers found some interesting dive sites featuring caves and schools of fish here.
IRIOMOTE ISLAND
(IRIOMOTE-JIMA)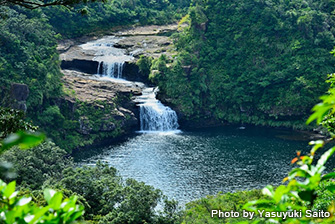 Iriomote Island, located about 30 km west of Ishigaki Island, is the second biggest island in Okinawa. About 90 % of the island is covered by natural forests and there are some beautiful waterfalls and rivers. Some indigenous species like the Iriomote wild cat can be found in the mountains.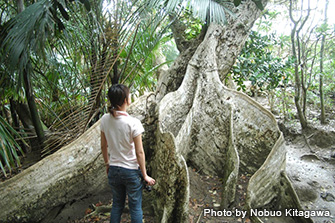 Along some coastlines you will see seven types of mangroves. Because of its unique environment, Iriomote Island is called "the Galapagos of the East''. The underwater world is also wild and magnificent.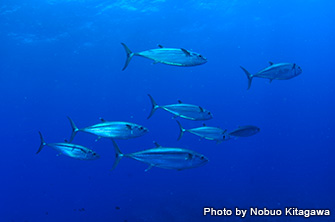 About 16 km southwest of Iriomote Island lies the Nakano-ogan Island. Around these two islands, there are about 50 dive sites, mostly reachable only by boat. Nakano-ogan Island offers dynamic underwater landscapes and schools of pelagic fish like tuna. If you want to go to Nakano-ogan Island, the best season is April to November. Due to the north wind, some diving centers are closed during the winter, especially from early January through the end of February.
KUME ISLAND (KUME-JIMA)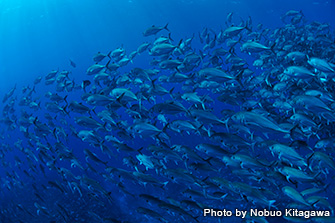 About 100 km west of Okinawa Main Island is Kume Island surrounded by a coral reef. The reef extends deeply into the ocean on the east side. When diving in this area, you may see walls, coral gardens, schools of fish, arches, caves, etc. It is also very convenient, since almost all dive sites can be reached within 10 to 15 minutes by boat.
On the east side, in the middle of the lagoon, there is a 7 km sandbank named Hatenohama which stretches out like a mirage. Sandbank can be reached by boat for a picnic and snorkeling. Kume Island has the relaxed atmosphere of an isolated island. On the southeast of the island there is a beautiful white sand beach named "Eef Beach''. Along it you will find many hotels and guesthouses. If you want to see manta rays in Okinawa, it is a good idea to stay on this island.
KERAMA ISLANDS
(KERAMA SHOTO)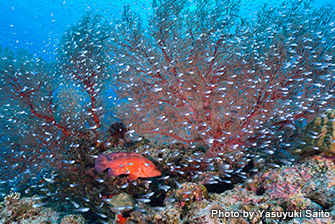 Kerama Islands, a region of 50 small islands and coral reefs including 4 inhabited islands is located about 40 km west of Naha City. It is said that there are 248 species of reef building corals around Kerama Islands. Around the Okinawa Islands, humpback whales can be seen from December to April, so whale watching is popular in the Kerama area.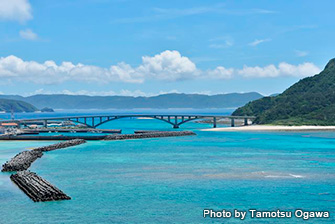 There are diving centers and guest accommodations on the 4 inhabited islands: Zamami Island, Tokashiki Island, Aka Island and Geruma Island (the last two is connected by a bridge). You will feel the local island atmosphere on each island. Many Japanese divers are so fascinated by the beautiful coral gardens and the variety of marine life that they visit these islands regularly.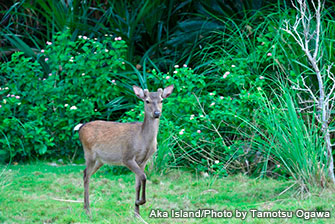 Kerama Islands have primeval forests where the protected species of the Kerama deer lives, making it a wonderful place for those who want to relax in unspoiled nature.
YONAGUNI ISLAND
(YONAGUNI-JIMA)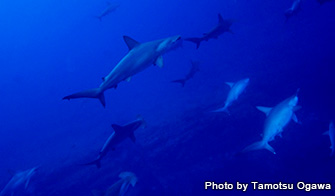 111 km from Taiwan, 500 km from Naha, Yonaguni Island is the westernmost island of Japan. This island is famous for its mysterious underwater dive site named "Kaitei-iseki". Iseki means remains of an ancient city. Encounters with hammerhead sharks are quite frequent in the winter. There are hotels, guesthouses and diving centers on this island.
OTHER ISLANDS
Among the islands we will present the ones with diving centers.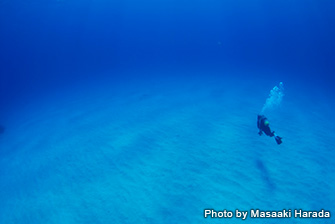 Ie Island lies to the northwest of Okinawa Main Island, half an hour by ferryboat from Motobu port in Motobu town. The island is 8.4 km wide from east to west and about 3 km long from north to south, with a relaxing atmosphere, sugar cane fields, and a resort hotel. Around Ie Island, you can enjoy cavern diving at the dive sites such as the "Kananzaki Dome", as well as beautiful corals with small fish in the patch reef.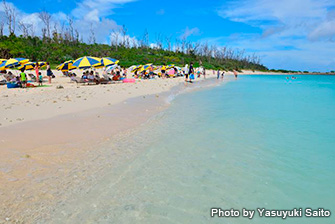 Minna Island lies to the east of Ie Island, 15 minutes by ferryboat from Toguchi port in Motobu town. There are some easy and relaxing dive sites thanks to the sandy bottom and shallow water around the island. This tiny island is shaped like a croissant and is also popular as a picnic site.
* There is an island Called "Minna Island" also in Miyako Islands.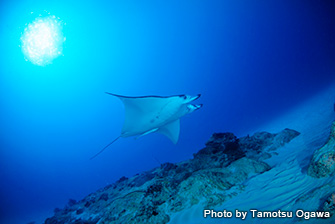 Kohama Island lies about 2 km east of Iriomote Island, 25 minutes by ferryboat from Ishigaki Island, Kohama Island is small and flat except for the Ufudaki mountain (99 m). The island is covered by sugar fields and surrounded by beautiful beaches. "Yonara Channel", the channel between Kohama Island and Iriomote Island, is a well-known manta ray site.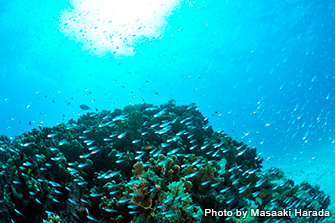 Kuro Island lies 19 km southwest of Ishigaki Island, and is surrounded by coral reefs. It is a tiny peaceful place, famous for its cow population, which is ten times larger than the human population on the island. Diving is easy, with turtles, beautiful soft corals and abundant marine vegetation.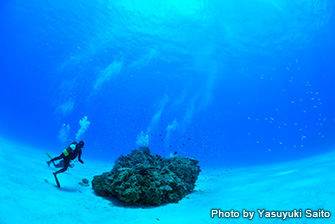 Hateruma Island is the southernmost Japanese island. The sea is crystal clear all year round. The blue color of the water is so beautiful and famous that it is known as "Hateruma Blue''. You can find diving centers on site or take a special diving day tour from Ishigaki Island.
A Day of Diving in Okinawa
Except for some places in Okinawa Main Island, the major way of diving is boat diving. Some diving centers offer up to three dives a day, plus night dives and Nitrox dives.
Rental equipment is available everywhere. Make sure to check in advance with the diving center about the size of the equipment you would like to rent.
Japanese guides are very knowledgeable about marine life. It is common practice for a guide to show you certain species and point out a particular behavior.
Tipping doesn't exist in Japan.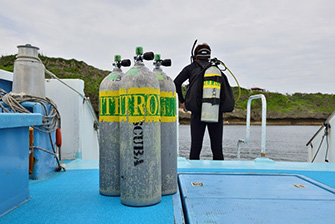 Check for availability of Nitrox diving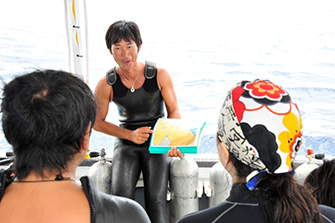 Briefing with a map
In Japan, Yoke valves are common. If you want to use your DIN regulator in Japan, you will need an adapter to convert your regulator to yoke system.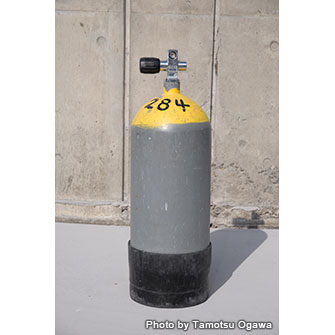 A yolk-valve tank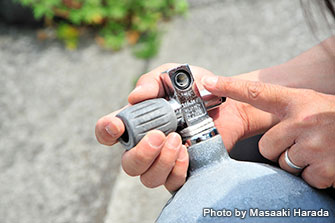 If you are not familiar with this valve, you might need an adapter
Accomodation Options for Divers
Accommodation options vary on each island. Check each islands' page for details.
In many cases, the diving centers will be able to help you find an accommodation. Some diving centers may offer you their own lodging with English speaking staff.
Front lobby of a hotel, Okinawa Main Island (Okinawa Honto) west coast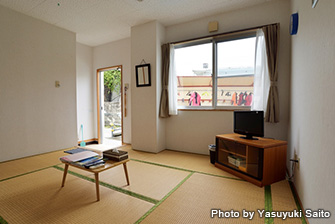 A traditional tatami style Japanese room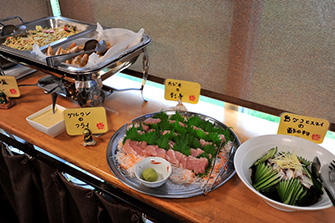 Buffet style breakfast. Enjoy fish from early in the morning!
Breakfast is generally included and some accommodations include dinner as well. On the small islands, there are very few nightlife. Some of the diving centers or guesthouses don't accept international credit cards. Anyways, you will need cash for many of your small expenditures (shops, drinks, etc.).
Daily Life & General Information
Please check with the very informative web-site of Okinawa Convention & Visitors Bureau
https://www.visitokinawa.jp/travel-tips