Best Place to See Hammerhead Sharks
near TOKYO
DIVE IN MIKOMOTO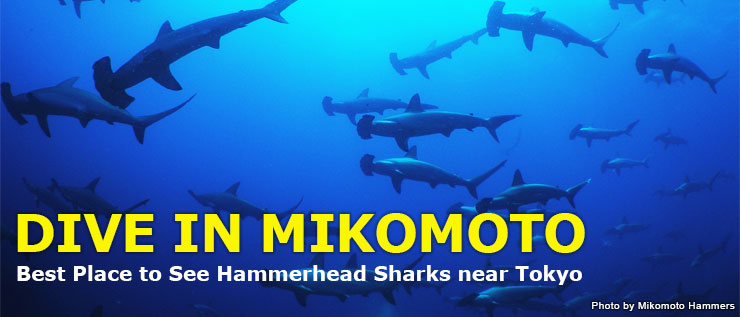 Mikomoto Island
Mikomoto Island is a small, rocky, uninhabited island located off the southern coast of Izu Peninsula, Shizuoka Prefecture.
Many divers from around the world come dive around the island, hoping to see the dream of many divers --- school of hammerhead sharks.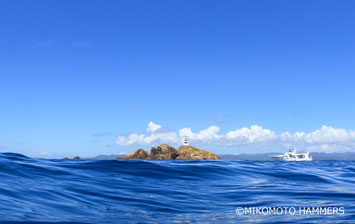 Mikomoto Island
Watch the school of hammerhead sharks come closer and closer (Video by Mikomoto Hammers)
Hammerhead sharks can be seen around Mikomoto Island usually from June to October, depending on the water temperature. They prefer warm water of above 20℃ (68℉).
Naturally, the water temperature begins to rise between July to September as the ground temperature rises, so the chances of encountering the hammerhead sharks are relatively high. If you truly want to see the hammerheads, visiting during this high season is recommended.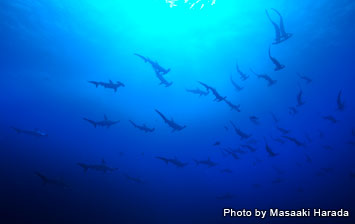 Hammerhead sharks
But there is also Kuroshio Current which raise the water temperature regardless of the ground temperature. The appearance of hammerheads in Mikomoto Island is greatly affected by this current, for it flows very close to the island. So, depending on the current, there are chances of seeing them almost all year long!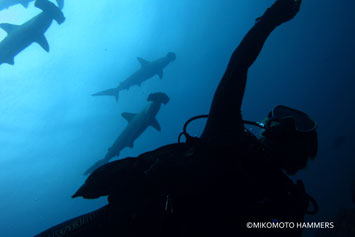 Take photos with the sharks!
KUROSHIO CURRENT
One of the biggest and strongest ocean currents in the world which originally flows from the eastern Pacific Ocean along the equator. Part of it changes direction at the north of Philippines, becoming Kuroshio, and flows northeastward past the southeast coast of Japan.
Bringing the warm and clear water from the south, it has huge influence on the ocean condition and the marine life of Japan.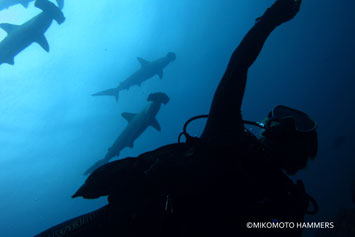 Take photos with the sharks!
Of course, hammerheads are not the only type of creature to be expected. Many pelagic fish appear around the island since the island is situated in the open ocean.
What To Expect
Mikomoto Island is not only about hammerhead sharks. Many types of fish are expected varying by the seasons.
Again, Kuroshio Current plays an important role; some unexpected, rare creature such as sunfish, whale shark, dolphin, and sailfish also appear in this ocean.
April~June
Pelagic fish such as greater amberjack, Japanese amberjack, and white trevally can be observed.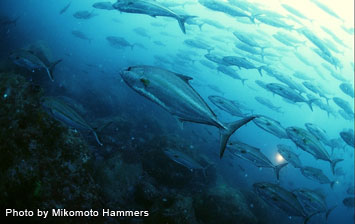 Japanese amberjack
July~September
Season for shark watching!!!
Best season for diving with hammerhead sharks. There are also high chances of seeing sandbar sharks and blacktip sharks.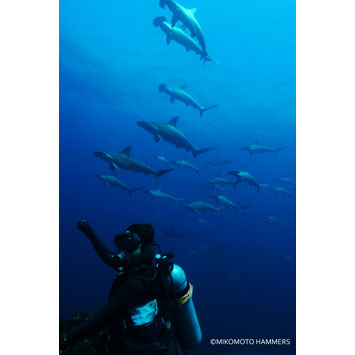 Hammerhead sharks are so close!
October~December
Hammerhead sharks are observed until late October.
Kuroshio Current brings tropical fish from the south. Spotted eagle ray and anthias may be observed.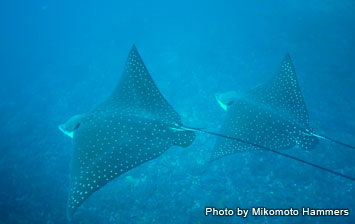 Spotted eagle rays
All Year
Huge school of threeline grunt and yellowstriped butterfish are seen all year long.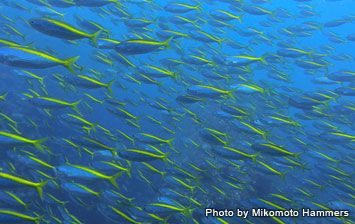 Huge school of yellowstriped butterfish
Other Visitors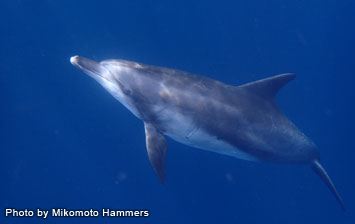 Dolphin encounter!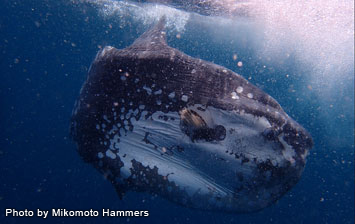 Mola mola (sunfish) are very rare around Japan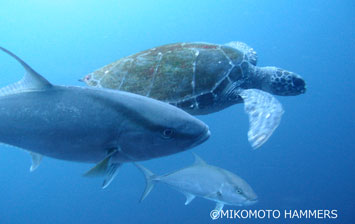 Green sea turtle
Dive Sites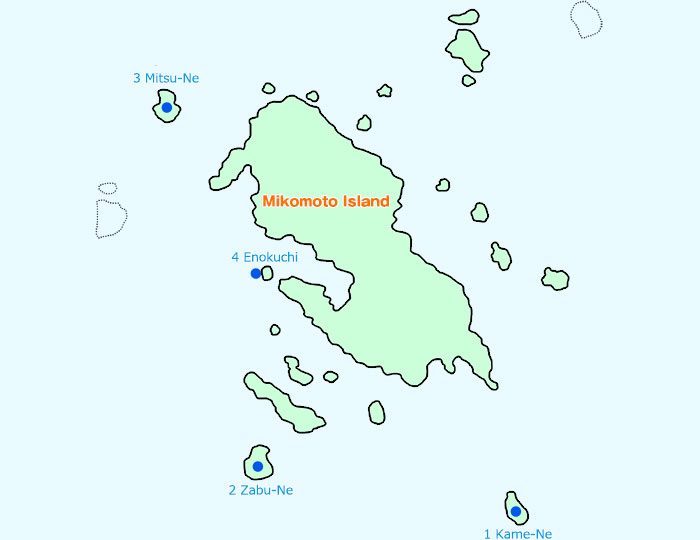 Map illustrated by Shin Suzuki
1. Kame-Ne
Skill level : all levels
Maximum depth : 25 m
Main dive site to see the hammerhead sharks.
Other school of pelagic fish are often expected also.
The current is not so strong, so this dive site is good for beginners.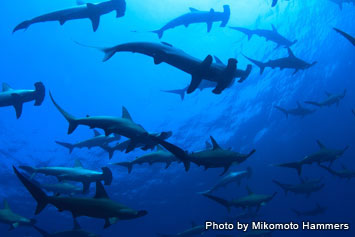 Let hammerhead sharks swim above you
"A point" (Point A)
"A point" is at the side of "Kame-Ne".
This spot is especially good for beginners since unlike other dive sites where you can only drift dive, you can hang on to the wall while watching the hammerheads. This is also a great place to take close-up photos of the sharks.
2. Zabu-Ne
Skill level : advanced
Maximum depth : 30 m
Drift dive from here to "Kame-Ne" is the main diving style in Mikomoto Island.
3. Mitsu-Ne
Skill level : from intermediate
Maximum depth : 30 m
The name of the dive site comes from the 3 rocks sticking out of the ocean.
("Mitsu" = 3)
Huge schools of greater amberjack, Japanese amberjack, threeline grunt, and yellowstriped butterfish swim around the rocks.
4. Enokuchi
Skill level: all levels
Maximum depth : 25 m
Fun dive site for beginners with many fish.
Diving Style
・Mikomoto Island is 100% drift(boat) diving.
・There is no rope to help you with ascent or descent.
・You must have the skills to maintain neutral buoyancy at the depth of 5 m on your own.
・You must be able to stay at the depth of 5m for safety stop without any rope.
・The direction of the current often change during the dive, so make sure you stay close to the guide at all time.
Rules to Dive in Mikomoto Island
Listed below are the rules that must be followed in order to dive in Mikomoto Island.
1. Diver must have experience of more than 30 dives
2. Last dive must be within a year.
3. All divers must have signal float & dive computer of his/her own
4. Maximum depth must be 30 m & total dive time must be less than 35 min. including safety stop
5. Dive must be ended when anyone of the team's remaining gas reach 70 bar.
Watch the video to experience diving in Mikomoto!
How to Get There
Access to the nearest station
Head for Izukyu Shimoda Station
About 3 hours from Tokyo
About 3.5 hours from Tokyo by local train
About 2.5 hours from Tokyo by limited express train "Odoriko"Recommended!
★We recommend riding "Odoriko" from Tokyo to Izukyu-Shimoda Station. This way, there is no need to change the train.
Diving Shop in Mikomoto Island
*Open from April to December