Diving in YONAGUNI ISLAND
Hammerheads and Underwater Ruins


Diving in YONAGUNI ISLAND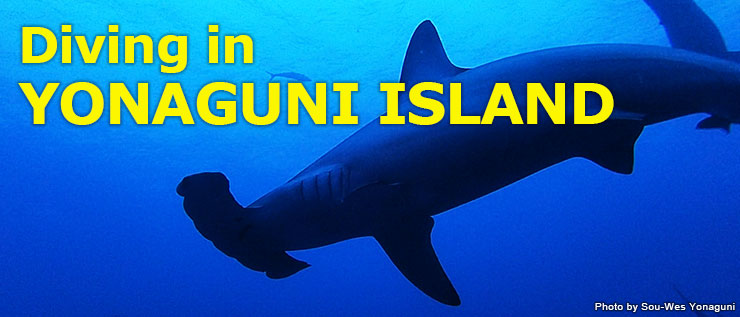 50, 80, 100……River !! You can see "Hammer River" with high probability! (Video by Sou-Wes Yonaguni)
Whaleshark, manta ray, and tornado of barracuda in "Kuroshio Blue" water ! (Video by Sou-Wes Yonaguni)
Overview of Yonaguni Island
Which island is the westernmost island of Japan? The answer is Yonaguni Island. In fact, this small island located in the middle of Kuroshio current is closer to Taiwan than it is to the other Japanese islands.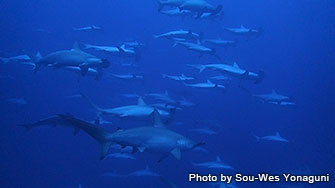 Possibility of seeing more than 100 hammerhead sharks!
The dynamic ocean around Yonaguni Island is extremely unique.
Huge school of hammerhead sharks and the mysterious underwater ruins in this ocean have been attracting the divers from all over the world!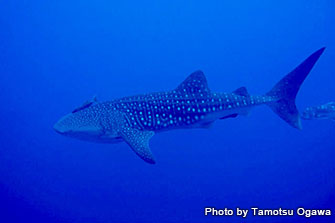 Whale sharks visit Yonaguni Island from time to time
Many pelagic fish such as barracuda and dogtooth tuna can also be seen, and from time to time, even sailfish and whale sharks appear!
The splendid visibility is also worth noting, with over 50 m when the condition is good.
With all of this plus the fun cavern dive sites and many kinds of sea creatures to see, you will never get tired of diving in Yonaguni Island.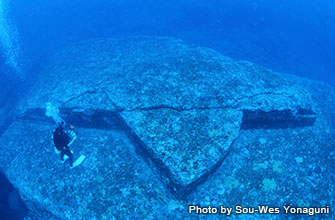 One of the structures at the ruin called "The Turtle" looks like a turtle seen from above
The top 2 popular dive sites are "Irizaki" and the "Underwater Ruins".
"Irizaki" is at the western point of the island, and it is popular for the high possibility of encountering hammerhead sharks and large pelagic fish.
"Underwater Ruins" is in the south area. Therefore, you can dive here even during the winter season, while other dive sites are closed due to the north wind.
If you are willing to dive at these 2 dive sites, we recommend you visiting Yonaguni Island from December to May.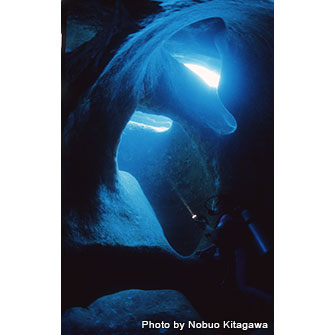 Cavern dive site called "The Palace of Light", or "Hikari-no-Kyuden" in Japanese
! Rules to watch hammerhead sharks !
★Do not chase the hammerhead sharks, or they will swim away. Follow the guide's order, keep enough distance from them, and wait for them to come to you.
★Quickly descend head first, because the current is fast.
★Be sure to maintain neutral buoyancy, you will most likely be drift diving within the depth of 15~20 m. Do not get too far from the guide.
Season Calendar for divers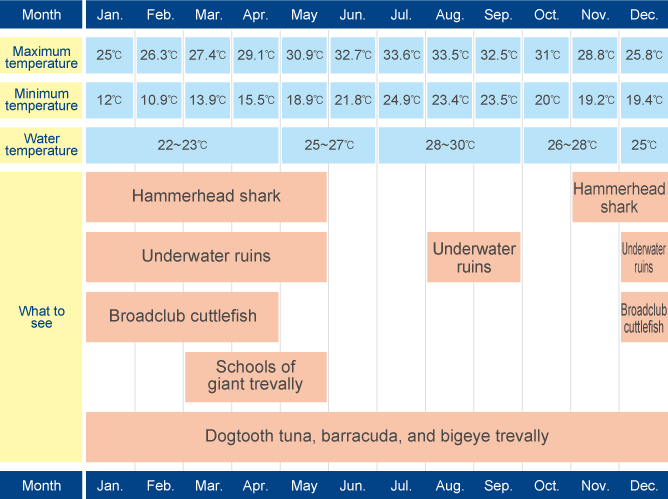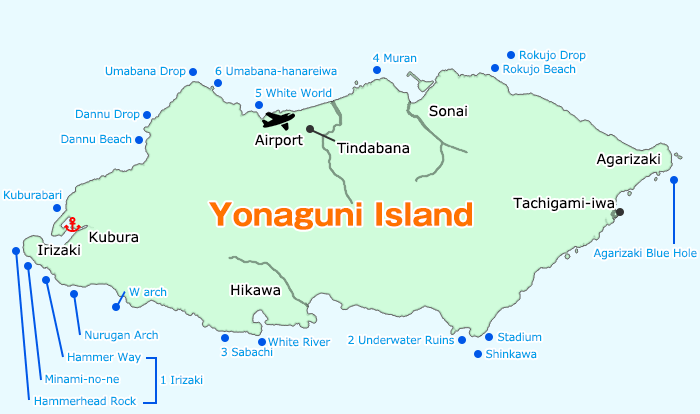 Click on the numbered dive sites for information!
Dive Sites in Yonaguni Island
1 Irizaki
Skill level : from intermediate
Maximum depth : 25~30 m
Currents : sometimes very strong
Distance : 10 min. from Kubura port
This dive site is famous for the hammerhead sharks. You will be watching hammerheads in the middle of the ocean, away from the reefs, walls, or any kind of underwater structures (100% blue water diving).
You may also see schools of dogtooth tuna, barracuda, and bigeye trevally. Sometimes, even sailfish and whale sharks appear!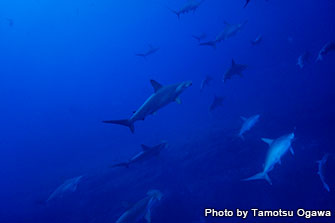 2 Underwater Ruins
Skill level : from intermediate
Maximum depth : 17 m
Currents : sometimes strong
Distance : 20 min. from Kubura port
Here lies an enormous underwater monument which is said to be remains of an ancient city. Some of its rock formations such as "Main Terrace", "Entrance" and "The Turtle" looks man-made, but the truth is still a mystery. There are so many interesting sites here that you will not be able to see them all in just one dive.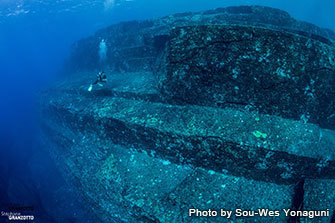 3 Sabachi
Skill level : all levels
Maximum depth : 10~20 m
Currents : nearly none
Distance : 10 min. from Kubura port
Colonies of red sea anemones spread at the depth of 15 m, and living together with them are beautiful tomato anemonefish. From winter to spring, you can see broadclub cuttlefish mating at this dive site.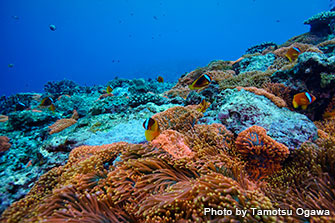 4 Muran
Skill level : from intermediate
Maximum depth : 25 m
Currents : sometimes strong
Distance : 10 min. from Kubura port
There is a cave shaped like letter "L" at the depth of 20 m, and when you go through it, you will see beautiful arches. There are elegant firefish and school of square-spot fairy basslet at about 25 m deep.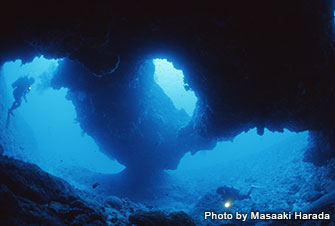 5 White World
Skill level : all level
Maximum depth : 10~20 m
Currents : sometimes strong
Distance : 15 min. from Kubura port
A beautiful dive site with endless white sand bottom and deep blue ocean. You may see schools of striped large-eye beam and bluestripe snapper at the wall.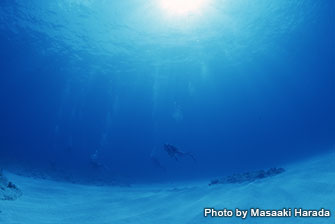 6 Umabana-hanareiwa
Skill level : all level
Maximum depth : 26 m
Currents : sometimes strong
Distance : 10 min. from Kubura port
You can enjoy the underwater formations such as dynamic walls and arches, as well as large fan corals and colorful school of basslet.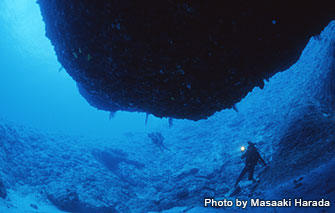 Gallery of Yonaguni Island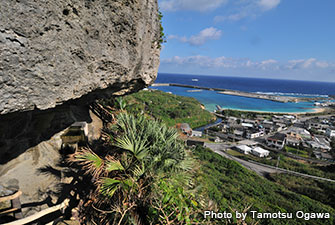 "Tindabana" is a natural observatory. From here, you can see Sonai village in the center of the island and the East China Sea beyond it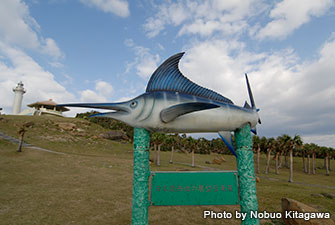 This is the sailfish monument of Yonaguni, standing in Irizaki. Sailfish fishing is famous in Yonaguni Island. "Monument of the Westernmost Point of Japan" is also nearby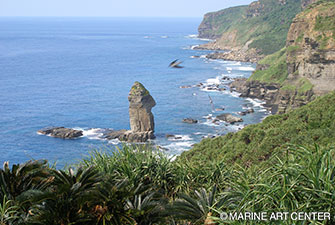 "Tachigami-iwa" is believed to be the rock of God
Yonaguni horse, the natural monument of Japan, is the endemic species of Yonaguni Island
Diving Shops in Yonaguni Island
*Please note that not all diving shops on the list have English speaking staff.
*Please choose the diving shops at your own risk. We're not responsible for any accidents / troubles.
Transportation
We recommend renting a car or a motorcycle in this island. It might be tiring to travel by bicycle with the hills, and there are not many public buses (The public buses are free).
If you would like to use taxis, make sure to reserve them beforehand.
Watch out for the horses and cows when travelling!
Transportation times:
10 min. from the airport to Sonai
15 min. from the airport to Kubura Port
15 min. from Irizaki to Hikawa
20 min. from the airport to Agarizaki
The guest house staff usually picks you up from the airport or Kubura port at your arrival. On the day of diving, the diving shop staff would pick you up from your guest house.
A Day of Diving in Yonaguni Island
The common diving style in Yonaguni Island is drift diving. Since the fast current is flowing at most of the dive sites, you need to have diving skills above intermediate level to dive in this ocean.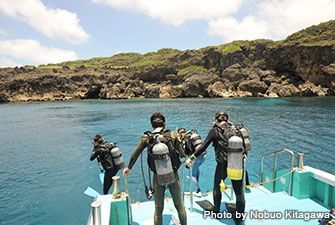 Diving boats have ladders so it is easy to enter the water, but be careful when exiting the water
For example, at dive sites near Irizaki, where you would most likely be diving at if you are aiming to see the hammerheads, you need to quickly descend as soon as you enter the water and maintain the neutral buoyancy at about 15~20 m deep. And of course, safety stop at 5 m deep during the final ascent.
Caution: After the final ascent, make sure to hold on to the line connected to the boat and wait in line to exit the water. Otherwise, you will be swept away by the fast current!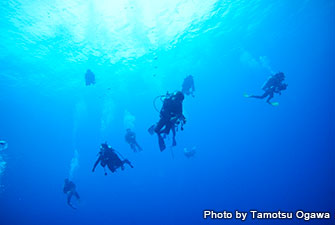 Yonaguni Island is perfect for blue water diving with the high visibility
Most of the dive sites are near the port (5~20 min boatride away), so usually you come back to the port after every dive.
One dive before noon, have lunch at the port, and go for the second dive… is the common pattern. If you are going for the third dive, you come back to the port again to rest after the second dive.
Accommodation Options for Divers in Yonaguni Island
For accommodation, small guesthouses are common. There are hotels, but not very large. Many diving shops also have guesthouses, so it is convenient to stay at these.
There are three villages in this island: Sonai, Kubura, and Hikawa. Most of the restaurants and accommodations are around Sonai, the center of the island, and Kubura, where the port is at.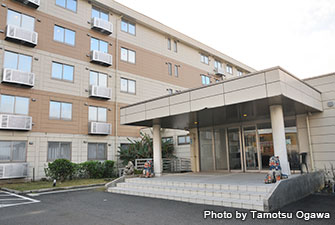 "Island Hotel Yonaguni" is the biggest hotel in Yonaguni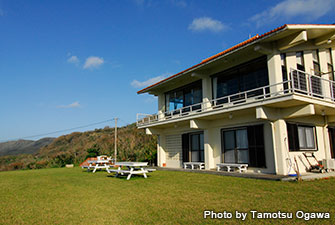 "Irifune Annex Bamboo Villa", located at the top of the hill, has a magnificent view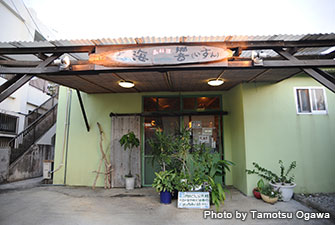 There are some restaurants at Sonai and Kubura, and you can enjoy local food and alcohol. This is a restaurant in Kubura called "Isun"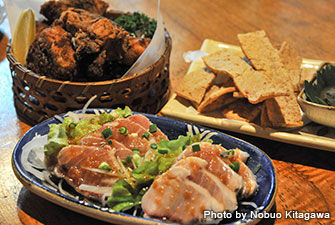 Enjoy sashimi of sailfish and other local food at the restaurant "Hate" in Sonai
Travel Information
Access to Yonaguni Island
About 1.5 hours from Naha, OKINAWA (1 flight / day)
About 35 minutes from Ishigaki Island, OKINAWA (3 flights / day)
About 4 hours from Ishigaki Port by ferry (twice a week)
Internet
Wi-fi is available at the airport and some of the accommodations.
Shopping
Although there are no supermarkets or convenient stores in this island, there are small shops at Sonai and Kurabe, where you can buy "Kandaiyu" made from sailfish, "Donan", a strong awamori with the ABV of 60 degrees, and products made with salt and chomeiso (long life herb) of the island.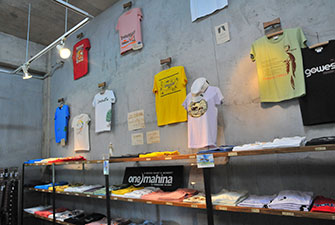 There are T-shirts and original products at the souvenir shop "onemahina"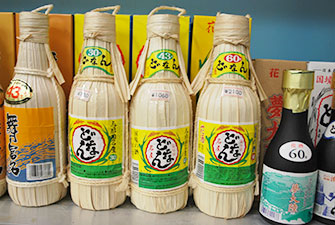 Awamori "Donan" is an alcoholic drink with ABV as high as 60 degrees!
Hospitals
There is only one hospital in Yonaguni Island, and it is small.
If you are seriously injured or sick, you may need to go to the hospital in Ishigaki Island.
ATM/Money dispensers
There are ATMs at post offices. Money exchange is usually not available. Not many shops accept credit card payment, so be sure to bring cash with you.