Shark Scramble only 2 hours away from TOKYO


Diving in ITO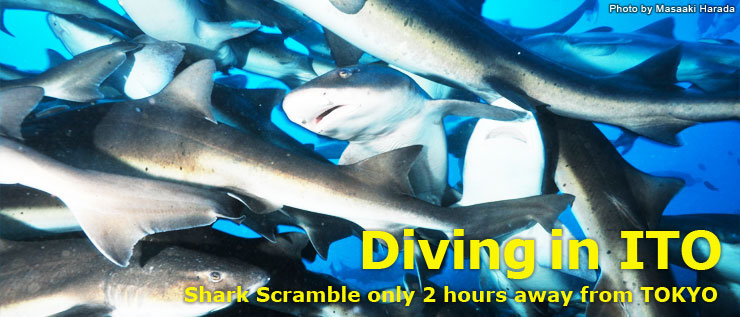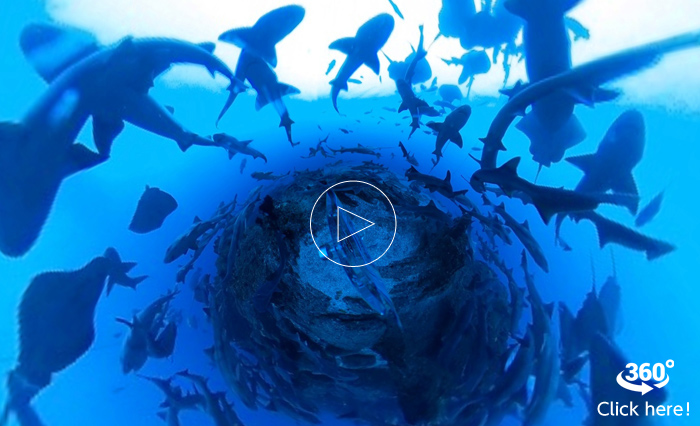 Watch the video to experience shark scramble! It is difficult not to bump into one. (Video by ITO Diving Service BOMMIE)
Overview of Ito
Let hundreds of sharks surround you in Chiba!
Ito, situated at the tip of Boso Peninsula in Chiba prefecture, is in the west of Tokyo bay, only about 2 hours away from Tokyo by car.
This might be the only place in the world where you can see so many sharks this close by.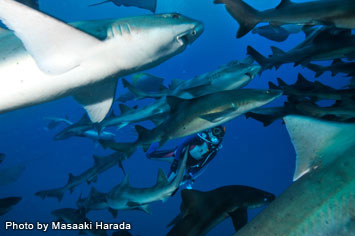 Banded houndsharks
The story leads back to the concern of fishermen in Ito.
There were originally many banded houndsharks in this area. The problem was: they were getting into the net and eating the fish captured by fixed-net fishing.
The fishermen asked for help, so Kan Shiota of ITO Diving Service BOMMIE decided to lead the sharks away from the nets by feeding them elsewhere. This was in 2009.
This strategy succeeded in attracting many banded houndsharks and red stingray, and the feeding place have become a fascinating dive site now known as "Shark City".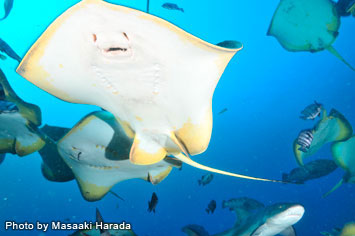 Be very careful with the stinger in the tail of red stingray
The 4 main creatures in Ito are red stingray, bulgyhead wrasse, longtooth grouper, and banded houndsharks.
Listed below are how they are called in Japanese.
・Red stingray=Akaei
・Bulgyhead wrasse=Kobudai
・Longtooth grouper=Kue
・Banded houndfish=Dochizame

Taking the first letter of each creature's Japanese name, they are called "AKKD480". This name comes from the famous Japanese idol "AKB48".
"AKKD480" is the idol of Ito♥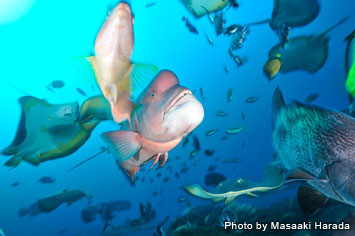 Bulgyhead wrasse swimming around the diver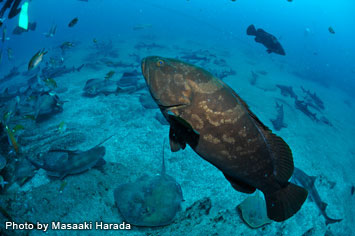 Large, tamed longooth grouper
!Caution at the "Shark City"!
The banded houndsharks are usually very calm.
However, when feeding, they sometimes bump into you, making your mask and regulator come off.
Listed below are the things you need to be careful about.
★Make sure to have your hood & gloves on.
★Mask clearing and regulator recovery are must-have skills.
★Do not chase the sharks and stingray.
★The depth is over 20 m, and the current is sometimes strong, so you need skills above intermediate level.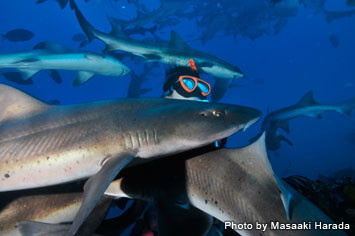 Do not panic when the sharks bump into you!
Season Calendar for Divers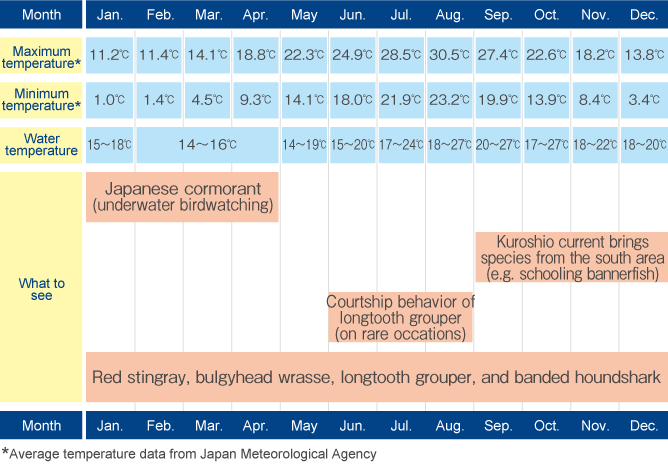 Dive Sites
Okimae-ne
Skill level : from intermediate
Maximum depth : 20~24 m
Currents : sometimes strong
Distance : 3 min. from Ito port

Diving in Ito takes place around "Okimae-ne", a large patch reef with the length of 150 m from east to west, surrounded by sandy bottom.
There are 2 buoys, one in the east, and another in the west.
The east side of the patch reef is the main dive site known as the "Shark City". As soon as you enter the water, you will be welcomed by banded houndsharks, red stingray, bulgyhead wrasse, and longtooth grouper. Recently, beard grunt also seem to have joined the party.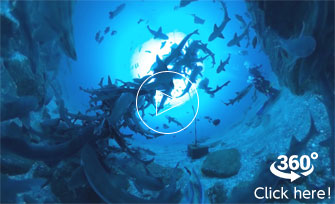 Shark tornado! There are sharks everywhere you look. (Video by ITO Diving Service BOMMIE)
This is the only dive site in Ito, but you can enjoy diving here in various ways.
Looking for critters such as nudibranchs and beautiful soft corals around the patch reef, finding olive flounder, angel shark, and many other fish at the sandy bottom…and so on.
You can even watch pelagic fish such as greater amberjack and yellowtail amberjack here.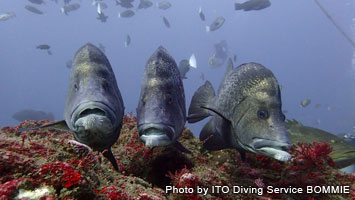 Beard grunt are commonly seen these days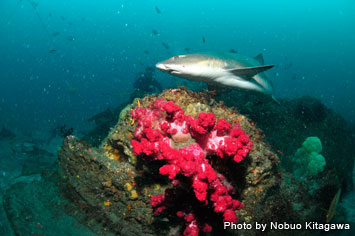 Vivid soft corals and a banded houndshark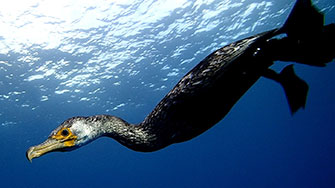 During winter, it is exciting to watch Japanese cormorant dive into the ocean in search of prey.
There are not many dive sites where you can enjoy birdwatching underwater!
Videos of Ito
Watch Japanese cormorant fly around freely underwater
(Video by ITO Diving Service BOMMIE)
Sharks, sharks, stingray, sharks…
(Video by ITO Diving Service BOMMIE)
Even sunfish appeared in the past
(Video by ITO Diving Service BOMMIE)
A Day of Diving in Ito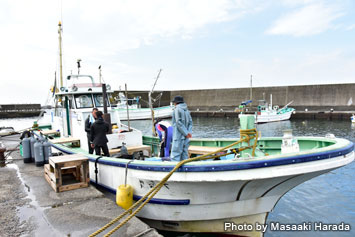 This is the diving boat. The dive site is close, so there is no need to worry for seasickness
Most visitors come to Ito on a day trip from Tokyo.
Leaving Tokyo in the morning, arriving at the shop before 9 a.m., enjoying 1~3 dives, and leaving the shop at around 5 p.m. is the common pattern.
However, there are hotels, guesthouses, and hot springs around Ito, Tateyama, so spending a night is also possible.

The diving shop is near the port.
Dive site is only about 3 min. away by boat.
There is only 1 dive site. Buoys are set at the east and west of the patch reef, and you can enter the water by following the lines tied to them.
It is possible to dive 1~3 times per day.
The dive shop will take you back to the port after every dive.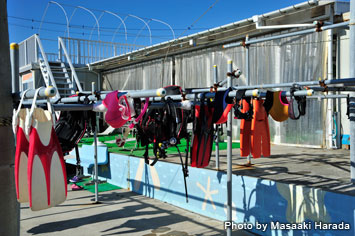 There is enough room for every diver to dry his/her equipment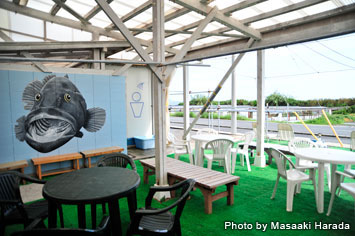 Resting place
There is a restaurant serving delicious seafood nearby called "Daibo", so we recommend you having lunch there.
You can also reserve bento (lunchbox) beforehand.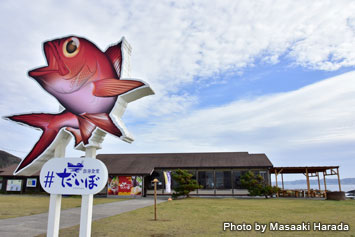 Right across the street from the dive shop is a popular seafood restaurant "Daibo"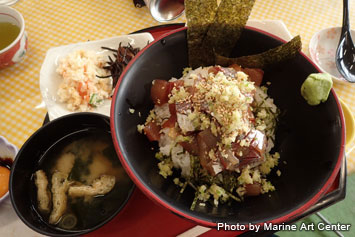 There are many varieties of seafood at "Daibo"
Travel Information
Access to Ito
About 2 hours from Tokyo
About 2.5 hours from Tokyo station to Kyukamura bus stop, Chiba
*Contact the dive shop beforehand if you need a pickup.
About 2.5 hours from Tokyo station to Tateyama station (Uchibo line), Chiba
*Contact the dive shop beforehand if you need a pickup.
Internet
Free Wi-Fi available at the dive shop
Payment
Cash payment only