Manta Rays, Whales, and Many Pelagic Fish


Diving in KUME ISLAND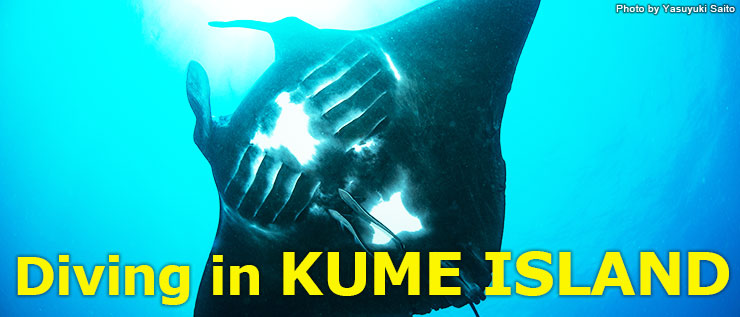 Kume Island is a beautiful island full of nature, located approximately 100 km west of Naha, the center of Okinawa. It is known for having all the amazing factors that the other Okinawan islands have, and the same can be said to its ocean.
Now, thanks to the discovery of the new cleaning station for manta rays in the end of 2017, manta rays can be seen almost all year round.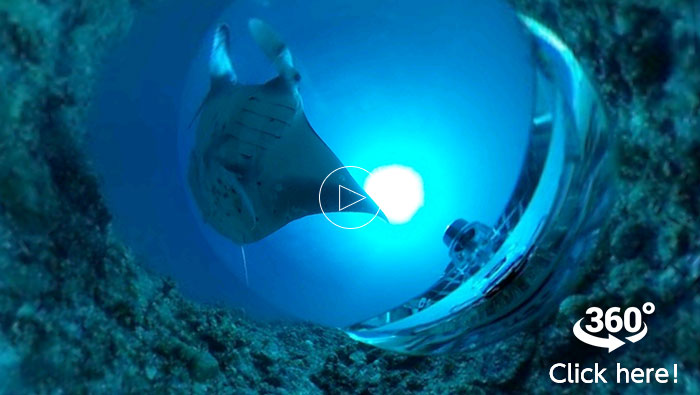 "Manta Station"
Overview of Kume Island
Kume Island is a diamond shaped island located 100 km west of Naha, Okinawa Main Island.
With the area of 63.21 km², it is the 5th biggest island of Okinawa, following Okinawa Main Island, Iriomote Island, Ishigaki Island, and Miyako Island.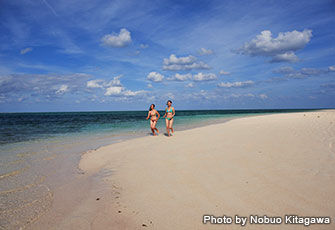 The beautiful beach of Hate-no-hama
In the east side of the island is a reef 12 km long called "Ugan-bishi".
There are 2 islands inside the reef: Oh Island and Oha Island. Beyond the reef are 3 sandbanks: Mae-no-hama, Naka-no-hama, and Hate-no-hama.
These 3 sandbanks made of small fractures of corals are called Hate-no-hama all together, and it is probably the longest sandbank in Japan. It is stunningly beautiful especially on a sunny day.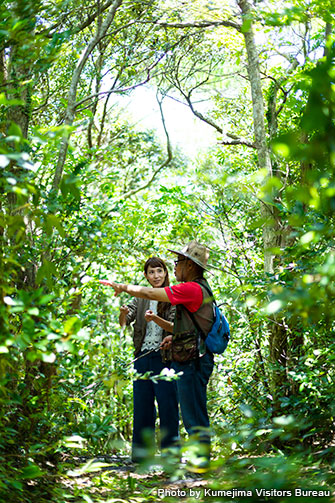 Nature trails in Nibuchi forest
The water of the Kume Island is what makes it special.
The northwest part of the island is included in the Ramsar List of Wetlands of International Importance. In this site, the streams flowing from Mt. Uegusuku is creating an important habitat for endangered species.
With this nutrient-rich water flowing into the ocean, it is not surprising that there are large number & wide variety of fish living in it.
Season Calendar for Divers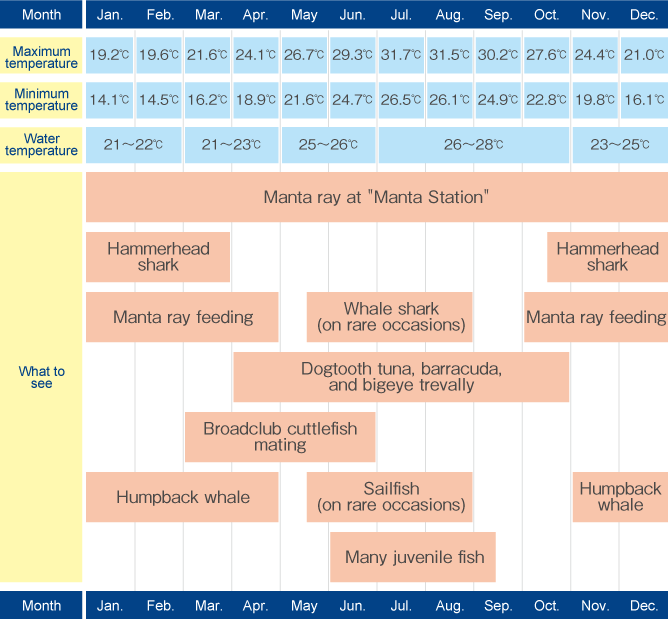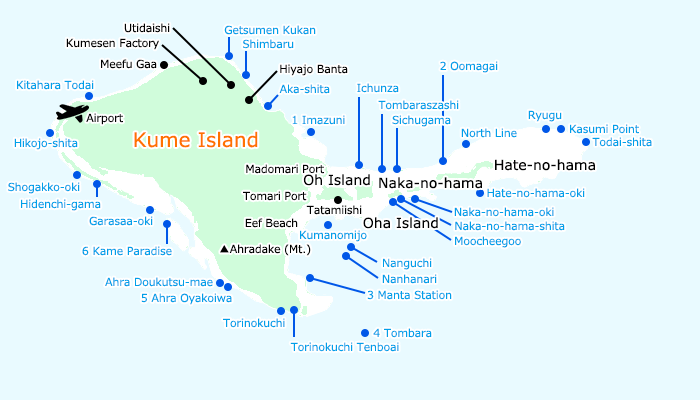 Click on the numbered dive sites for information!
Dive Sites in Kume Island
Manta Station
(Map : 3)
Skill level : all levels
Maximum depth : 18 m
Currents : nearly none
Distance : about 10 min. from Tomari Port
In this recently found dive site, 5 narrow walls lining up from south to north are considered cleaning stations for the manta rays. The 1st, 2nd, and the 5th wall counting from the south are the ones with higher chances of encountering manta rays.
The top of the wall is as shallow as 7~8 m, so it is good for the beginners.
When watching the manta rays, you must wait around the wall. You should not get close to the reef top where the manta rays are hovering.
"Manta Station" is still under investigation.
Please be sure to follow the rules listed below so that the manta rays would stay.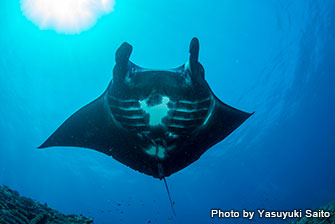 The rare black manta rays are occasionally seen in this site!
!Rules to Watch Manta Rays in "Manta Station"!
1. Do not stay on the reef that the manta rays are hovering above.
2. Do not touch the manta rays.
3. Do not chase the manta rays.
4. Do not let your bubbles touch manta rays.
5. Be very careful when entering & exiting the water.
6. When watching the manta rays, stay on the wall.
7. Do not make unnecessary sounds.
These are some of the rules that the guest divers should follow.
There are more rules for diving shops.
Tombara
(Map : 4)
Skill level : from intermediate
Maximum depth : 35 m
Currents : sometimes very strong
Distance : about 35 min. from Tomari Port
"Tombara" is a dive site in the south. The giant rock emerging from the surface is remarkable.
If you're lucky, you may be able to encounter schools of dogtooth tuna and bigeye trevally, manta ray, spotted eagle ray, and sometimes even whale sharks.
During winter, hammerhead sharks can be seen often, and humpback whales may appear on rare occasions.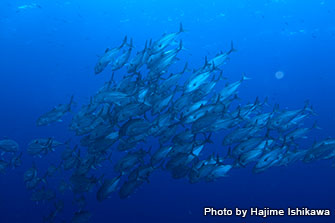 Chances of seeing schools of bigeye trevally and other pelagic fish are very high
Imazuni
(Map : 1)
Skill level : all levels
Maximum depth : 25 m
Currents : almost none
Distance : about 10 min. from Tomari Port
Popular fish for the divers such as dogtooth tuna and bigeye trevally can be seen in this dive site, even though it is only about 10 minutes away from the port.
A giant wall with complex feature emerges from over 25 m deep, and around it are red fan corals and beautiful fairy basslet.
From spring to autumn, you may see large schools of bigeye trevally, and during summer, schools of barracuda.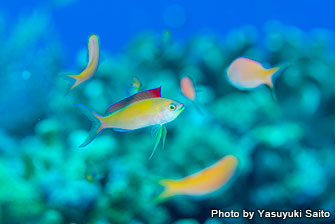 Beautiful fairy basslet
Kame Paradise (Turtle Paradise)

(Map : 6)
Skill level : all levels
Maximum depth : 20 m
Currents : almost none
Distance : about 15 min. from Tomari Port
If you're lucky, you may see as many as 50~60 sea turtles resting on the reef at the same time!
Batfish are also seen regularly.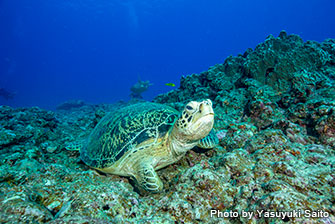 Must-go place if you're a sea turtle lover!
Oomagai
(Map : 2)
Skill level : all levels
Maximum depth : 40 m~
Currents : sometimes strong
Distance : 10~15 min. from Tomari Port
"Oomagai" is at the north side of "Ugan-bishi".
The top of the wall is as shallow as 7 m, but the depth is over 40 m. The visibility is splendid, and the way schools of double-lined fusilier swim through the blue underwater world is breathtakingly beautiful. On the wall are randall's shrimp goby and the colorful schools of square-spot fairy basslet and randall's fairy basslet.
There are also many red-spotted blenny in this site.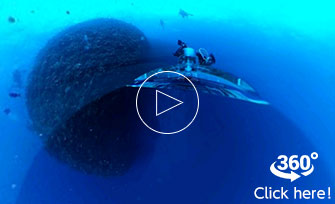 Watch the video and experience the dynamic ocean
Ahra Oyakoiwa
(Map : 5)
Skill level : all levels
Maximum depth : 14 m
Currents : sometimes strong
Distance : about 15 min. from Tomari Port
In this cavern dive site, you can enjoy the beautiful blue world with sunlight shining in from the holes above. After you go through the tunnel, in the shallow part of this site, are every kind of anemonefish that can be seen in Japan, except for the saddleback anemonefish.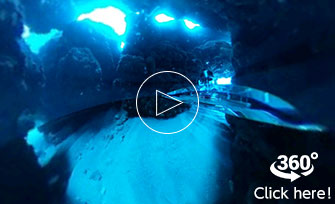 Look around and see the beautiful sunlight coming in from above
Gallery of Kume Island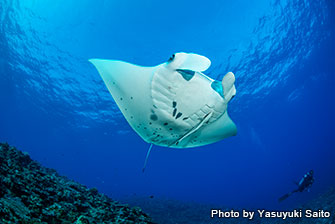 Until 2017, manta rays could only be seen in winter. But thanks to the discovery of cleaning stations, now you can dive with manta rays all year around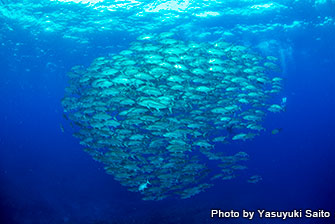 The tornado of bigeye trevally. You can see them in "Imazuni", which is one of the exciting dive sites in Kume Island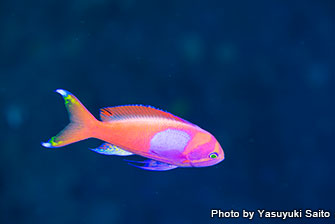 If you dive in early summer, you will be surprised to see many beautiful and colorful schools of fairy basslet. Square-spot fairy basslet are one of the popular fairy basslet!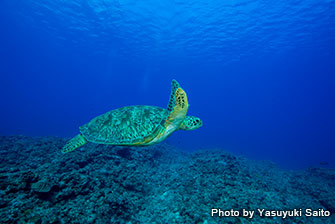 If you're lucky, you can encounter more than 50 sea turtles in Kame Paradise !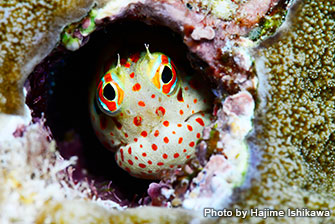 Now, you can see red-spotted blenny in lots of places in the world. In Japan, red-spotted blenny were first found in Kume Island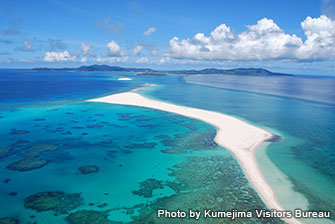 We recommend going to Hate-no-hama by an excursion. This is how it looks from above
Diving Shops in Kume Island
Many diving shops and accommodations are around Eef Beach and Gushikawa.
The shops listed below are some of the members of Kumejima Diving Anzen Taisaku Kyoryokukai which accept non-Japanese customers.
*Please note that not all diving shops on the list have English speaking staff.
*Please choose the diving shops at your own risk. We're not responsible for any accidents / troubles.
Transportation
From the airport, you may ask your accommodation for the pickup, or rent a car.
If you are planning to rent a car from June to August, you should reserve beforehand while they are still available.
If you want to use a taxi, you may need to call for one (About 2,500 yen from the airport to Eef Beach area).
Public buses are also available, but there are not many.
Transportation times:
25 min. from the airport to Eef Beach
30 min. from the airport to Oh Island
5 min. from Eef Beach to Tomari Port
10 min. from the airport to Kaneshiro Port
On the day of diving, the diving shop staff would usually pick you up from your accommodation.
A Day of Diving in Kume Island
The common diving style in Kume Island is boat diving. Many captains also guide underwater, so they would anchor the boat and enter the water with you.
Most of the dive sites are near the Tomari Port / Tomari Fisharina (5~20 min. boat ride away), so coming back to the port after every dive is the common style.
Lunch is usually not included in the diving fee. Some of the shops may prepare for you if you order beforehand.
There are also convenience stores at the port where you can buy lunch.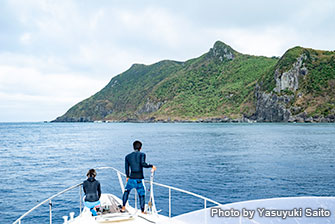 Staff anchoring the boat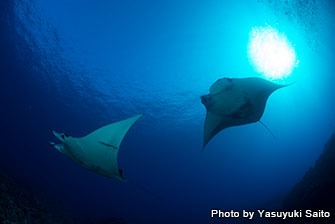 Dive sites are less than 20 min. away from the port by boat. You can get to "Manta station" in less than 10 min.
Accommodation Options for Divers in Kume Island
Kume Island has many popular resort hotels. There are also small guest houses and condominiums, so you may choose where to stay depending on the price.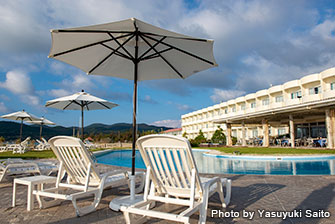 Eef Beach Hotel is located by the beach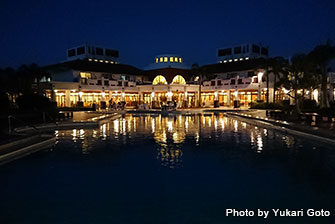 Resort Hotel Kume Island is near the Eef Beach
Travel Information
Access to Kume Island
About 35 minutes from Naha, OKINAWA
About 2.5 hours from Haneda, TOKYO (*Only during summer)
About 3 hours from Naha, OKINAWA
From Taiwan, Hong Kong, and other areas of Japan, you may use direct flights to get to Naha, OKINAWA.
Internet
Free Wi-Fi access at the airport, hotels, dive shops and more.
Shopping
Since Kume Island is rich in nature, many Japanese tourists buy food for souvenirs.
For tourists from abroad, we recommend "Kumejima-tsumugi", Japanese craft of silk cloth woven with traditional techniques, and cosmetics products made of deep sea water.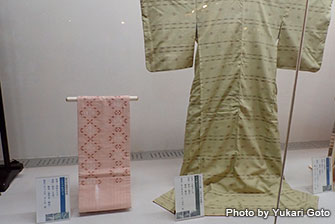 This is kumejima-tsumugi. It is one of the most expensive material used in Kimono. Colored with natural ingredients such as dirt and plants of the island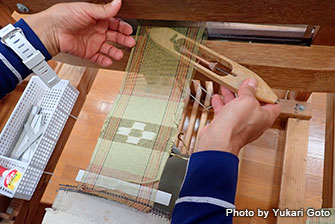 At "Kumejima Tsumugino Sato Yuimaru Kan", you can see the colorful silk cloth, and buy one if you want to. You can also experience weaving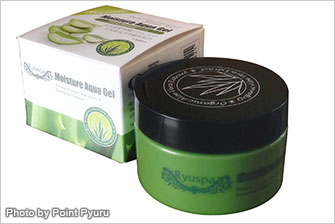 The ocean just off the coast of Kume Island is more than 1,000 m deep. There are facilities in Kume Island that suck up the deep sea water. The water is used for making products such as cosmetics products by Point Pyuru. "Ryuspa Moisture Aqua Gel" is good for sunburn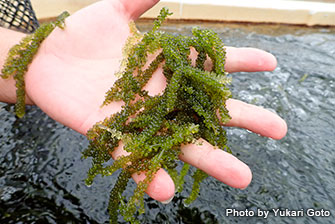 In Kume Island, deep sea water is also used for growing sea grapes, popular food of Okinawa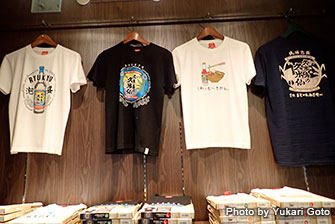 At "Kumejima's Kumesen", you can buy awamori spirits of Kume Island and original items related to them, such as these T-shirts
Eat & Drink
Hotel restaurants offer international dishes but eating outside of the hotel is much cheaper. There are many Okinawan soba and Okinawan home cuisine restaurants.
Also, there are some places where you can enjoy Hawaiian garlic shrimp since prawns are product of Kume Island, and many places where you can enjoy sweets.
At the bar in Eef Beach Hotel, you should try original cocktails of Kume Island. These are special drinks using fruits and plants of the island, and you can't drink them anywhere else.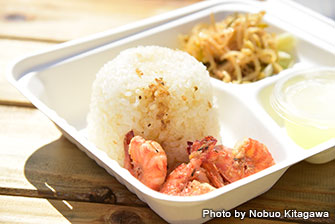 "YUNAMI FACTORY" near Kaneshiro Port has delicious garlic shrimp using prawn of Kume Island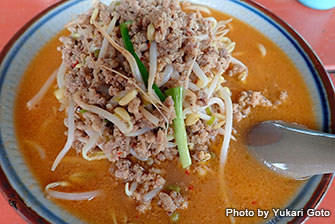 Kume Island is famous for the bean sprouts. You can enjoy Okinawan soba using miso and the bean sprouts of the island at "Three Piece"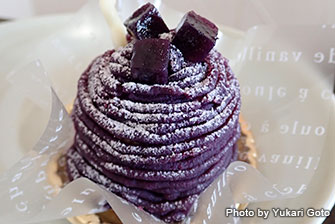 "Chiitudokoro Fukuya" offers purple mont blanc made with the famous purple yam of Okinawa. Their sweets are delicious!
Hospitals
There are some clinics and hospitals in Kume Island, but you must go to the hospital in Okinawa Main Island if you are seriously injured or sick.
ATM/Money dispensers
There are ATMs at post offices and convenience stores.
Money exchange is usually not available.