Surprising Number of Fish in Ito
News & Topics
Ocean info from Ito Diving Service


Surprising Number of Fish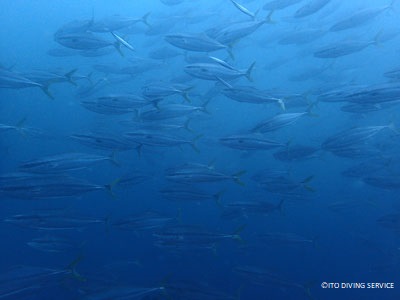 Yellow amberfish
The abundance of fish in Ito during this season is quite surprising.
Ito is a dive site at the eastern Izu Peninsula in Shizuoka Prefecture (It may be easily mixed up with the shark dive site in Chiba Prefecture, for it is also called "Ito", but how it's written in Kanji is different). The town itself is very famous for hot springs, but its exciting ocean is also worth noting. During summer, the number of fish increase and sometimes large pelagic fish appear.
Once you dive into the water, you will find yourself surrounded by school of yellow amberjack and threeline grunt. Thousands of silver stripe round herring resemble clouds in the sky because there are so many. Also, this year, southern fish carried to Japan on Kuroshio Current which usually appear after summer have in fact already arrived. Many adorable juvenile fish from warm water of the south such as stout chromis are being observed.
If you like watching schools of fish change its form and observing visitors from the south, now is the chance to dive in Ito! Also, don't miss pair of antennarius scriptissimus Jordan, largest species of frogfish, that have recently appeared, either.
Information & photos from Ito Diving Service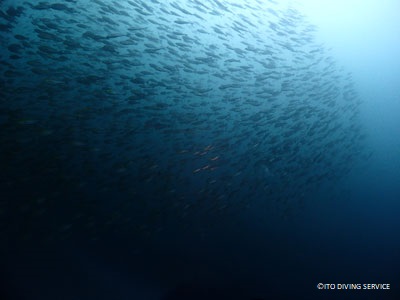 Threeline grunt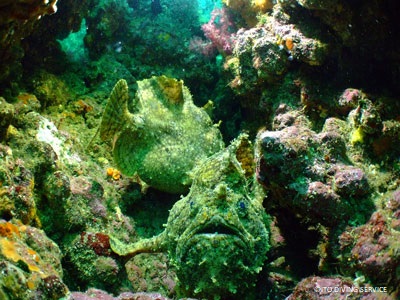 Antennarius scriptissimus Jordan