Dive Shops in Japan are Reopening ~Recent Ocean Info~
News & Topics
Recent Ocean Info


Dive Shops in Japan are Reopening after COVID-19 Shutdown


June 24, 2020

Earlier this month, Japanese government lifted the state of emergency over the greater Tokyo area, and many dive shops have resumed operation since. Restrictions for transfer between prefectures have also been loosened after June 19, allowing many divers to enjoy their long-awaited diving experience.

So, what's it like in the ocean of Japan right now?
HAMMERHEAD SHARKS IN MIKOMOTO ISLAND, SOUTHERN IZU
In Mikomoto Island, one of the world's famous dive site of Japan, hundreds of hammerhead sharks and huge school of Japanese amberjacks and greater amberjacks are appearing at "A Point".
"A Point" is a special dive site great for beginners; unlike other dive sites in Mikomoto where you can only drift dive, here you can hang on to the wall while watching the sharks. However, hammerhead sharks are seen around "A Point" only during early summer, so now is the only chance for beginners!
Also, according to the local dive shop "Mikomoto Hammers", the population of fish like Japanese amberjacks and greater amberjacks seems to have increased this year, and this may be result of COVID-19 shutdown.
MASS CORAL SPAWNING IN OKIERABU ISLAND
There have been many coral spawning from Islands of Amami to Okinawa at the beginning of this month. Okinoerabu Island, a small island situated between Amami Oshima is not an exception. Watch the amazing video taken by local dive shop "Sea Dream Okierabu" below!
The video was taken on the night of June 11th. This year, the spawning happened later than the dive guides expected, so it was a relief to finally see them spawn after 4 nights of no spawning!
SEAHORSE MATING & GIVING BIRTH IN MINAMATA, KUMAMOTO
Minamata, Kumamoto Prefecture, is known for the mating area of Hippocampus haema, or Korean seahorse, a new species of seahorse found only from the Korea Strait, western Kyushu, and East/Japan Sea. The local dive shop "Minamata Diving Service" says the mating behavior and the male seahorse giving birth are seen almost every day.
The male seahorses give birth to the babies during the night, and usually mate again within 3 days. The unique mating dance usually happens from morning to noon.
"The last mating in this season should happen in mid-July," says the dive guide of "Minamata Diving Service", "…and the last birth is likely to occur during the 1st week of August."
It is amazing how he can predict when and how many seahorses are going to mate and give birth in the future!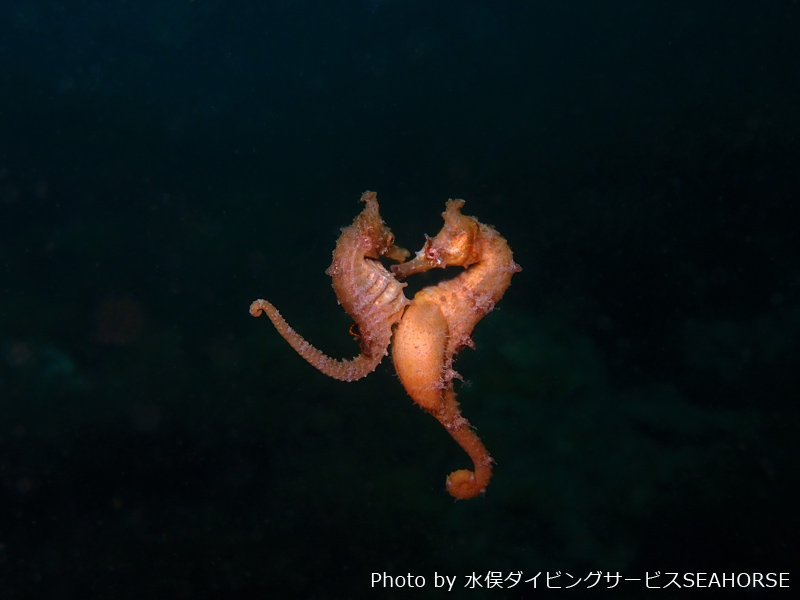 Mating dance of Korean seahorse
Above are some of the recent news of Japanese scuba diving areas, but there are more. Sunfish appeared in Osezaki, Western Izu Peninsula in May, and the extremely rare megamouth shark (species of deepwater shark) and whale shark were seen in Hasama Oceanic Park, Chiba…you can never get tired of diving in Japan!
International travel is still restricted, but once the world is back to normal, why not make Japan your next travel destination?
To divers living in Japan:
Not all dive shops are open, and many have restrictions for guests to prevent further infection etc. So if you are planning a dive, be sure to contact the dive shop beforehand!